Welcome to the world of Xreal Air vs Air 2 vs Air 2 Pro Glass Here, you are going to explore the unique features of the three most sought-after products from the renowned brand Xreal, which was formerly known as Nreal.
Yes, you got it right!
This article will give you a comprehensive comparison of Xreal smart glasses, i.e., Xreal Air vs. Air 2 vs. Air 2 Pro.
Take a look…
Table of Contents
Smart Glasses
Xreal Air
Xreal Air 2
Xreal Air 2 Pro Glass
Xreal Air vs. Air 2 vs. Air 2 Pro Glass: Unique Features
Immersion Control
Ergonomic Design
Audio
Weight
Display
Brightness
Included Items in the Bag
Price
Similarities of Xreal Air, Xreal Air 2, and Xreal Air 2 Pro
Refresh Rate
Compatible Devices
FOV (Field of View)
Why A User Must Use Smart Glasses?
Experience AR Technology
Hands-Free Communication
Assists People with Disabilities
Enhanced Security and Safety
Smart Glasses
Opting for smart glasses will elevate your life and offer you a new experience. Moreover, AR-integrated Xreal smart glass blends the digital elements with the physical environment. Therefore, users can create their home theaters or workspaces just in front of their eyes.
Unbelievable right?
In today's fast-paced digital world, there is an abundance of technological inventions, each designed to enhance our experience and make it more seamless. However, there are only a few products that consistently remain at the top of the list.
In that list, Xreal smart glasses are the one, so keep reading to know about their first and most recent smart glasses.
Without further delay, let's get started.
1. Xreal Air
Xreal Air smart glasses are ultramodern AR glasses with an edge. It is really a comfortable and stylish option to bring virtual elements into the physical environment. Screens are extremely clear, responsive, and legible, giving users a fantastic and futuristic gaming experience.
The best thing about Xreal Air smart glasses is that they are compatible with both Android and iOS devices (when connected with an adapter). However, this glass has two modes: screencast mode and spatial mode. Through these modes, you can pair the glasses with any compatible device and pin subtitles in the 3D spaces.
2. Xreal Air 2
Xreal Air 2 is an amazing follow-up invention of the Xreal Air smart glasses. Users can unlock and experience the new magical world with the three different viewing modes, such as Sideview, Smooth Flow, and Body Anchor.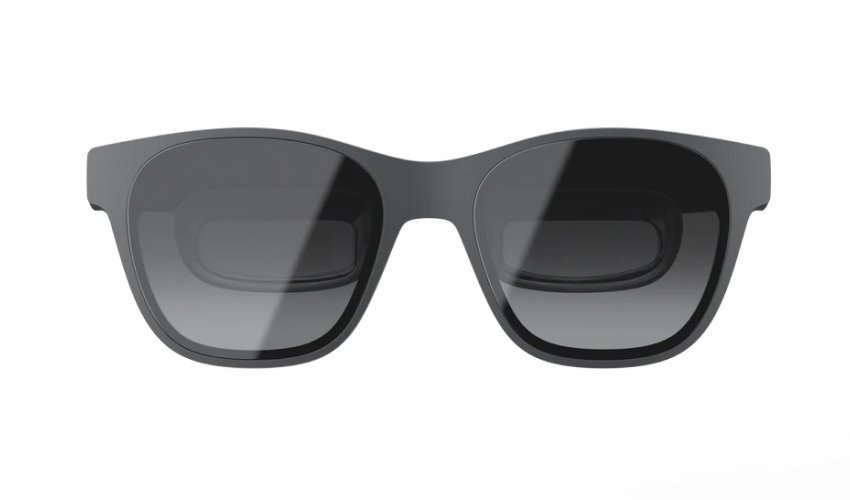 Apart from this, Xreal Air 2 smart glass's other exceptional features make it an ideal option to use. In addition, the elegant design, brighter Mini-OLED display, and lightweight are also significant reasons to pick this smart glass. Also, the Xreal Air 2 is rated as the most comfortable wearable so far.
3. Xreal Air 2 Pro Glass
The continuous release of the Xreal Air Glasses series mesmerizes users with its advanced features. Xreal is emerging as the trendsetter by launching the Xreal Air 2 Pro Glass. Also, all three products remain at the top of the list of the best smart glasses.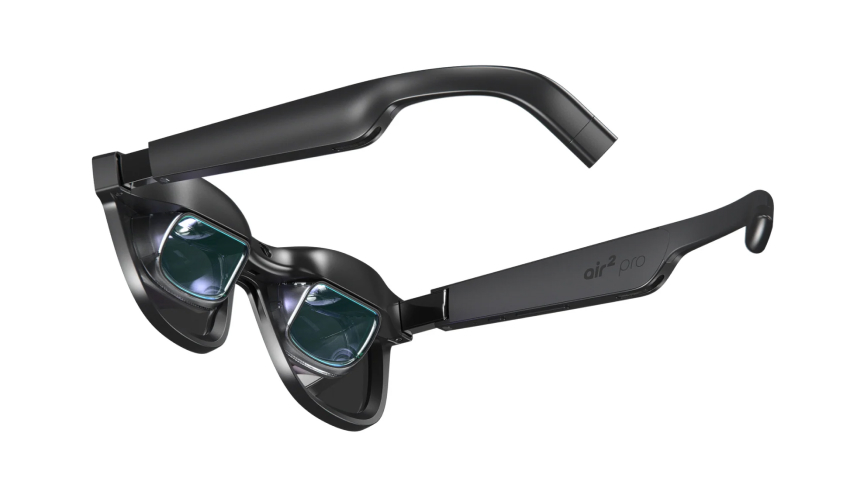 Let's take a glance at the Xreal Air 2 Pro Glass. This product offers exceptional performance through its color accuracy, eye comfort specifications, reduced blue light influence, and more. On the other hand, users feel that Xreal Air 2 Pro glasses are worth the price and are also the most impressive technical invention in recent times.
From the above lines, you get an idea about the three unique models of the Xreal Air smart glasses. Now, imagine this scenario as a tech-savvy person: you're searching for the best Xreal (Nreal) smart glasses, and you need to pick a product.
What would you do? Will you opt for Xreal Air, Air 2, or Air 2 Pro? Indeed, it'll be confusing, but you don't need to worry!
Yeah, this article gives you a detailed comparison of Xreal Air vs. Air 2 vs. Air 2 Pro smart glasses. Buckle up; let's get started.
Also See : Xreal Air 2 Pro vs. Apple Vision Pro Glass: Which One to Buy
Xreal Air vs Air 2 vs Air 2 Pro Glass: Unique Features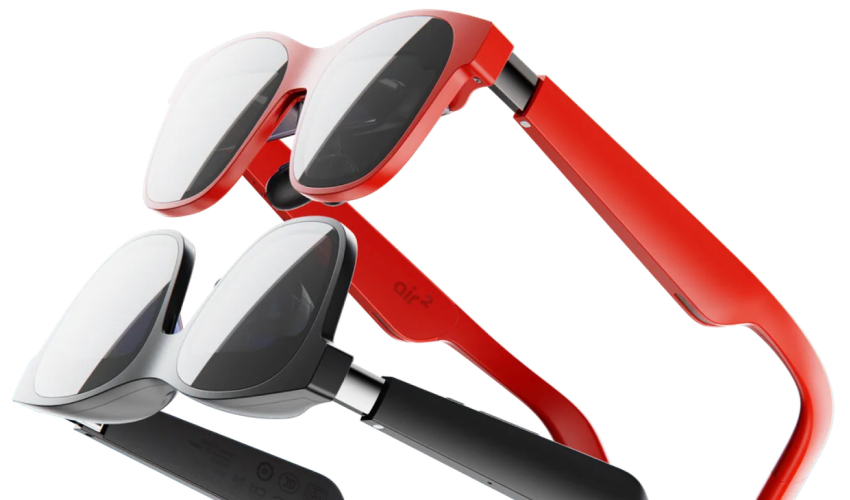 1. Immersion Control
First, are you aware of immersion technology? If yes, that's great, or let's know about them here. Typically, reality technologies blend both real-world environments and virtual elements that enhance the user experience.
While discussing the other side, it completely immerses the user in the artificial world and makes the user lose awareness. In that instance, product developers need to take the initiative against these things and launch a product according to them.
Hence, it is essential to incorporate immersion control in augmented reality (AR) devices in order to enhance the user experience. Xreal offers the Air 2 Pro glasses, equipped with an immersion control feature that enhances user convenience.
The Xreal Air 2 Pro glass features immersion control technology, which includes three electrochromic dimming levels: 0%, 35%, and 100%. However, the Xreal Air and Xreal Air 2 lack the immersion control feature.
2. Ergonomic Design
In general, ergonomic design has certain principles that firmly ensure the user's safety, comfort, and efficiency of the product. So, Xreal also provides ergonomic design principles to elevate the comfort of its potential users.
Xreal Air has a nose pad; other than this, there are no particular specifications on ergonomic design. Xreal Air 2 and Xreal Air 2 Pro glasses come with a new zero-pressure nose pad that makes the user feel more convenient and feel less pressure while wearing the glasses.
Plus, Xreal Air 2 and Air 2 Pro have ultra-soft temples and an improved weight ratio, i.e., 1:1. These two features enhance the overall experience while watching favorite films or attending a meeting. Also, users can sense that the glasses are so light.
3. Audio
Audio plays a crucial role in the overall smart glass design. Modern users expect a noise-canceling system and a gentle sound experience. Hence, the volume should be very balanced. It should not be too loud, noisy, or soft and slow.
Well, in Xreal Air smart glasses, users get a 1st generation sound system and two microphones. After a while, Xreal decided to improvise the system and added some specifications in the subsequent two releases.
Xreal Air 2 and Xreal Air 2 Pro glasses include 2nd generation sound system with richer, more immersive audio to offer a smooth experience to the users. Plus, these two systems have directional audio to reduce sound leakage, which is the utmost appreciable feature of these gadgets.
It's because this feature ensures the privacy of every user, which makes them happy. Also, Xreal Air 2 and Xreal Air 2 Pro have two microphones, like Xreal Air smart glasses.
4. Weight
What's your opinion? Is weight a considerable spec? Of course, it is the most significant feature when it comes to wearable gadgets. As everyone knows, the latest technological inventions simplify daily life activities and offer the utmost convenience to the users. So, weight is also a considerable thing in the Xreal Air series smart glasses.
Xreal Air is the weightiest smart glass that weighs 79 grams. Xreal Air 2 weighs 72 grams, and Xreal Air 2 Pro weighs 75 grams. From the comparison, you can choose the product according to your requirements. Most of the people who prefer lightweight smart glasses choose Xreal Air 2.
5. Display
The display of the AR smart glasses is a crucial feature to ensure and is one of the highly searched specs before purchasing, isn't it? Yup, let's take a glance at them.
Xreal Air 2 and Xreal Air 2 Pro come with Sony's latest 0.55 Mirco-OLED panel. But do you know about it? No! Don't worry, here it is. Micro OLED panels are used to achieve a higher pixel density than traditional OLED. This panel also enhances the image quality and is considered the future of technology.
When digging about Xreal Air smart glass, it has a 0.68 micro-OLED panel from Sony.
6. Brightness
Well, brightness secures a significant role in smart glasses and is one of the most crucial specifications. From smartphones to MR-integrated games, every technological invention must ensure brightness to make users comfortable.
Five hundred nits is the standard and a good measure to set the brightness. Let's know what Xreal chooses for their smart gadgets. Xreal Air 2 and Xreal Air 2 Pro have a brightness of up to 500 Nits, and Xreal Air Smart Glass has a brightness of up to 400 Nits.
7. Included Items in the Bag
The most highly anticipated aspect of purchasing any smart gadget is this particular section. Many people experience joy simply by seeing the attached cable, adapter, or other items. Now, let's uncover what Xreal contains in the bag.
The Xreal Air and Air 2 Pro come with a comprehensive set of accessories, including a glasses unit, prescription lens frame, detachable USB-C cable, light shield, travel case, cleaning cloth, and three different types of nose pads.
On the other hand, Xreal Air is the first smart glass in this brand that has a relatively smaller number of components enclosed within the bag. The package includes a cleaning cloth, glasses, a prescription lens frame, three nose pads, a case, and Xreal (please note that the adapter is not included).
8. Price
After the entire tech specs, pricing is the most significant deciding factor. Yes, undeniably, opting for a budget-friendly option makes the users happy, which is also good for their pockets. However, in the comparison of Xreal Air vs. Xreal Air 2 vs. Air 2 Pro smart glasses, pricing is the final part.
Xreal Air smart glass is $339.00
Xreal Air 2 smart glass is $339.00
Xreal Air 2 Pro smart glass is $449.00
Note: For the first 1000 Xreal Air 2 Pro orders, customers receive two stickers for free, and shipping starts on November 30, 2023. So don't miss it!
Like difference, these three Xreal gadgets also have some similar tech specs. Are you ready to explore them? Continue reading and purchase the right one.
Similarities of Xreal Air, Xreal Air 2, and Xreal Air 2 Pro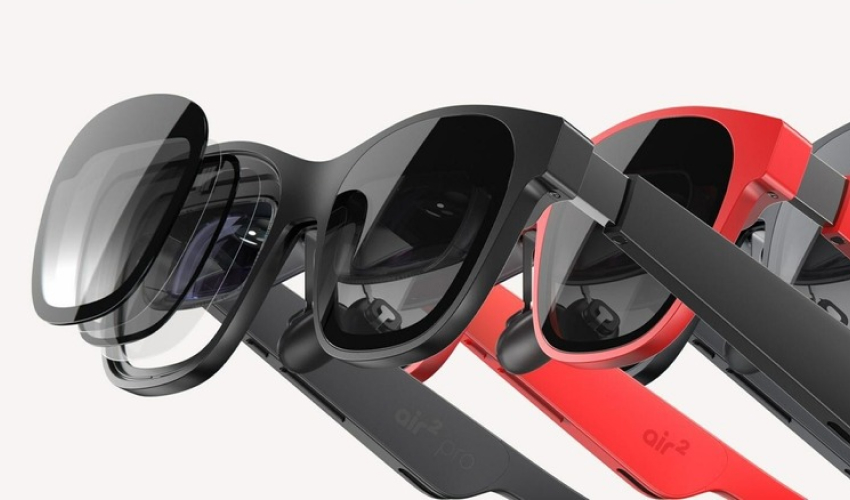 1. Refresh Rate
You may be wondering if a refresh rate is necessary or not! Certainly, it is one of the crucial technical specifications. The refresh rate plays a crucial role in providing users with a smoother and more realistic experience when viewing images through smart glasses.
What is the standard unit of measurement for refresh rate? Did you know that it can reach up to 120 Hz? Xreal smart glasses maintain a consistent refresh rate of 120 Hz across all three models.
2. Compatible Devices
Compatibility is the foremost specification to check while purchasing the latest technological inventions. In that instance, Xreal smart glasses provide a list of compatible devices on their websites.
As stated earlier, Xreal Air, Air 2, and Air 2 Pro glasses have similar specs. Such gadgets are compatible with computers, including UMPCs (ultra-mobile PCs), tablets, gaming consoles, and smartphones.
3. FOV (Field of View)
FOV (Field of View) is a mandatory feature that specifies area coverage. Xreal Air, Air 2, and Air 2 Pro cover up to 46-degree field of view, so users get a simple and normal view that is similar to the real world.
You have acquired a wealth of new information about Xreal Smart Glasses thus far. When purchasing smart glasses, there are several factors to consider. Have you ever considered the reasons for using smart glass? Not even gave it a thought? No worries! Indeed, you will get answers in the upcoming section.
Why A User Must Use Smart Glasses?
Explore these worthier reasons to utilize smart glasses.
1. Experience AR Technology
However, there are still many smart gadget users who are unaware of reality technologies and have never experienced the seamless user experience they offer. With the assistance of AR smart glasses, you can enhance your intelligence and become the smartest.
Additionally, it seamlessly integrates virtual elements into the physical world, allowing for the creation of an artificial reality that can be experienced anywhere and at any time.
Hands-Free Communication
As the next step of innovation, wearable smart glasses recognize your voice and body moments. Thus, through a simple command, you can access any feature or application of the integrated devices.
2. Assists People with Disabilities
Yes, you read it right. AR-smart glasses can help users who are suffering from myopic disorders and other hearing impairments. Special features like text-to-speech, live captions, and sign language interpretation assist them to forget their disabilities and give them confidence. In addition, it also has fitness tracking that keeps users healthy and happy.
3. Enhanced Security and Safety
Developers make sure that their users are safe and secure when using these devices. That's the reason these devices provide enough safety and security to their users through specific features such as fall detection, GPS tracking, and emergency alerts. In addition, the manufacturers' privacy policies ensure data protection, allowing you to establish a secure digital environment within the confines of the physical world.
Last Few Words
Smart glasses are revolutionary technological inventions that modify the way you interact with your private space. Hope you are aware of the details of Xreal smart glasses, i.e., Xreal Air vs. Air 2 vs. Air 2 Pro, and the benefits of embracing smart glasses. You can buy the one that fits your needs and budget the best. Using smart glasses can take your experience to the next level. Make sure to purchase the best AR smart glasses that meet your requirements and sense the blend of the virtual and real world at once.