Smart Glasses are wearable glasses. These glasses aim to integrate the wireless connectivity and imaging capabilities that users can enjoy on their home computers and cell phones into the frames and lenses of their eyewear.
Smart glasses are wearable devices that integrate Augmented Reality technology, enabling users to access the internet without the need for hands. These glasses enable users to access the internet through voice control and offer the convenience of accessing real-time information without disrupting their workflow.
If you want to know more, then this is the post for you!
Buckle up! You're going to enter the smart glasses realm, where augmented reality offers an interactive experience in front of your eyes. Yes, the AR-integrated advanced smart glasses allow users to interact with the virtual and real world.
Experiencing digital elements and the physical environment is really a pleasure, isn't it? In this instance, some of you might get confused about both AR and smart glasses. No worries; keep reading to enhance your knowledge in these advanced fields and stand tall among the others.
But where can you find those brands and the best smart glasses? This article includes some significant points about smart glasses along with the top 7 branded products that bring digital elements in front of their eyes.
So, without any delay, let's get started and embrace advanced technology to enhance productivity.
Table of Contents
What are Smart Glasses?
Why To Use Smart Glasses?
How do Smart Glasses Work?
7 Best Smart Glasses of 2023
Rokid Air
XREAL Air 2 Pro
Google Glass
Oppo Air Glass
TCL Glasses
Lenovo Thinkreality A3
Meta Ray Ban Smart Glasses
Before knowing about the best smart glasses, let's first take a look at these simple and important questions!
What are Smart Glasses?
Smart glasses are wearable devices that offer enormous benefits to their users. Similar to smartwatches, you can access calls, send messages, and effectively do other tasks.
Augmented reality-assisted smart glasses are quite advanced, and such devices combine both the physical and virtual worlds.
As users, you can witness virtual elements in real-time through integrated sensors and imaging technology. However, these features and accessibility conditions vary according to the brand and models.
Why To Use Smart Glasses?
We are living in the modern era, where technological advancements are at their peak. It is crucial for all of us to stay ahead, and technology helps us all to stay ahead at all times.
Opting for the latest gadgets or embracing new technological inventions is the best way to uplift your life in the ever-evolving digital world. In that instance, purchasing smart glasses to satisfy your needs and elevate productivity is undeniably important.
As stated earlier, smart glasses allow you to interact with digital elements and provide a user-smooth experience. Plus, this gadget is beneficial for users who are suffering from myopic problems. Yes, it's unbelievably true! So instead of asking why to use them, just try to purchase them and get a smooth experience.
How do Smart Glasses Work?
Are you wondering how these smart glasses work? If yes, then keep reading! Let's take a glance at that too. As previously stated, smart glasses combine with augmented reality and allow hand-free access to the internet. Plus, it is firmly believed that smart glasses are the future of the digital world. So buy a smart glass, visualize data, and communicate seamlessly.
Let's now take a look at the top 7 Smart Glasses of 2023. Here we go…
7 Best Smart Glasses of 2023
The wait is over! Here is the list of the top 7 smart glasses of 2023. Let's dive in.
1. Rokid Air
At number 1, we have Rokid Air. Rokid Air smart glasses stay at the top of the list and are known for their wide range of features. This gadget enables voice commands and allows users to take screenshots. Apart from this, you can take a look at these specialized features that will assist you in making a purchase.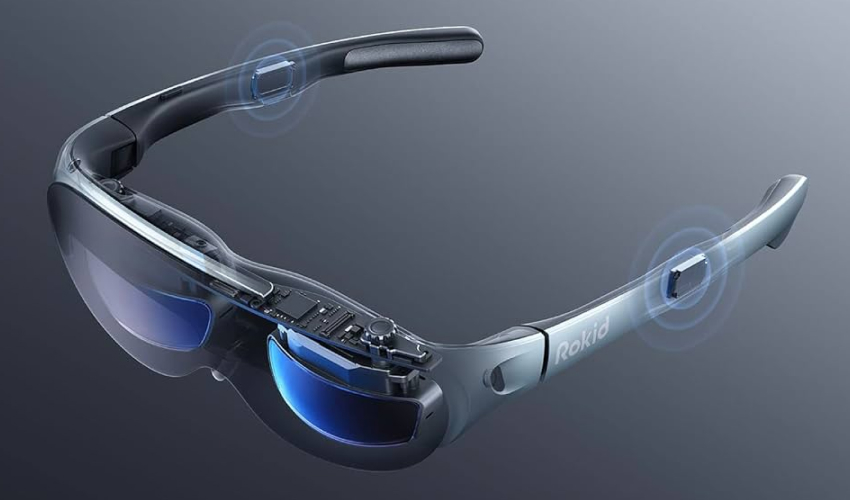 Key Features of Rokid Air
It comes equipped with a physical button to control brightness in 4 levels.
Can easily connect with iPhones and video game consoles like PS4, Nintendo Switch, Xbox, etc., with an HDMI port.
Connect with Android phones with USB-C display port and OTG.
portable and provides a perfect view
Myopic friendly that supports near-sighted adjustments in both eyes.
Tech Specs
Weight 89g, display brightness: 1800nits
Contrast ratio: 100000:1
Resolution: 1920 x 1080 x 2 and refresh rate: 60 Hz.
9-axis (IMU, magnetometer) and sensor fusion scheme
Audio HD directional speaker x 2
Noise-cancelling microphone and AI voice recognition.
In-box items include a glasses case, Rokid Air glasses, a USB-C cable, a user guide, and a glasses cleaning cloth.
Price: There are no specific details about the pricing on their official websites. However, according to the sources provided on some top-rated e-commerce sites, Rokid Air smart glass ranges from 48,999 INR to 63,350 INR. Thus, purchase this trendy smart glass to get the enchanting experience of Augmented Reality.
2. XREAL Air 2 Pro
When it comes to the best smart glasses, XREAL Air 2 Pro is at the top. It is the latest smart glass, which is also emerging as the best wearable, just like the previous version.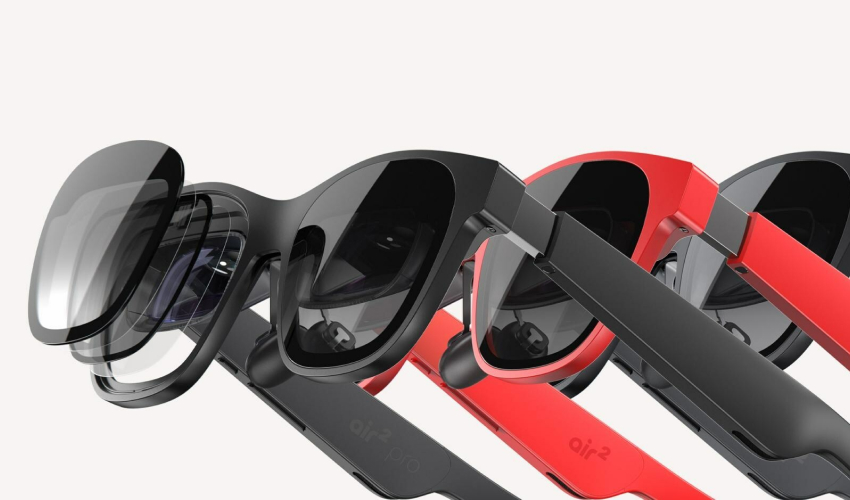 However, it is available in a few countries, like Germany, China, Japan, the USA, Italy, Great Britain, and France. Take a look at the features and technical specifications to see whether they match your requirements or not.
Key Features of XREAL Air 2 Pro
It is lightweight and more comfortable to use
Compatible with any device, such as tablets, gaming consoles, and computers, including UMPCs
XREAL Air 2 Pro offers a 46-degree field of view
Three modes are available: transparent, productive, and immersive
Tech Specs
Weight: 75 grams
The unfolded dimension is 148 mm x 51.4 mm x 161 mm, and the folded dimension is 56.4 mm x 51.4 mm x 56.4 mm.
The package includes a travel pouch, three nose pads, a frame for prescription lenses, a cleaning cloth, and a USB-C cable.
Resolution per eye: 1920 x 1080 (full HD)
Contrast ratio 100000:1 and brightness up to 500 nits
Refresh rate up to 120 Hz and
Price: The cost of the XREAL Air 2 Pro is $449.00. Now, you can enjoy the ultimate experience while playing or performing tasks. You can buy this cool smart glass online. The best thing is that these smart glasses come with discounts as the brand also provides special discounts as a launch offer. They give two free stickers for the first 1,000 Air 2 Pro orders.
3. Google Glass
As everyone knows, Google is one of the most significant technological inventions. Google was the first brand to launch the very first smart glasses in the year 2013.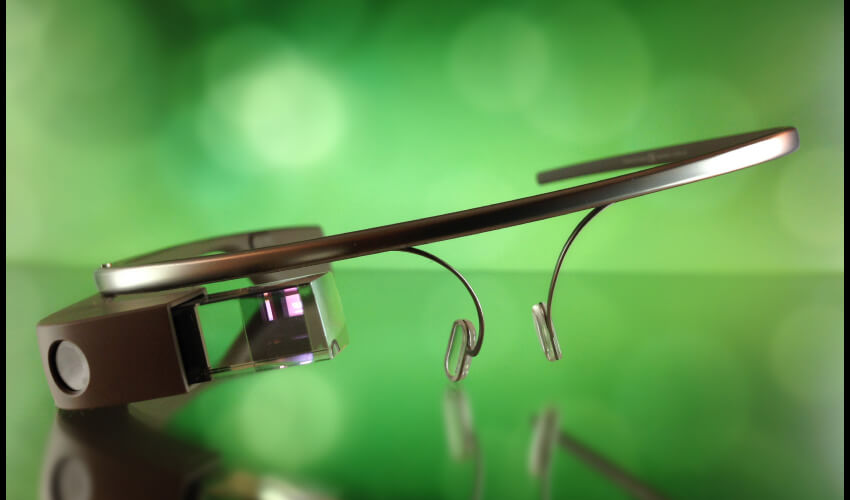 Google Glass is the most praised smart glasses. However, the Google Glass Enterprise Edition has updates until 2019. In this section, you'll explore them, and if they release any updates for sure, you'll get them in the upcoming days.
Key Features of Google Glass
It allows you to take photos and videos.
It offers the option to use the Google search engine when Wi-Fi or the internet is connected
Collaborate with Google Maps to provide step-by-step assistance
It supports both voice and video calls
It allows you to send emails and text messages
Sync smart Google Glasses with calendars.
Set reminders and alerts through notifications.
Tech Specs
12GB storage
Micro USB cable for charging.
Compatible with Bluetooth headsets and phones.
Price: Cost is not available.
Note: According to the website, Google stopped the production of the Google Glass Enterprise edition for some concerns. After this, there is no update from the company; if there is any information, then, for sure, you'll get it here.
4. Oppo Air Glass
Oppo Air Glass stands tall among the other smart glasses due to its impressive features and capabilities. In today's technologically advanced era, Oppo holds a prominent position in the market and consistently introduces a wide range of innovative gadgets, including mobile phones, tablets, and air pods. The Oppo Air smart glasses were included in the list.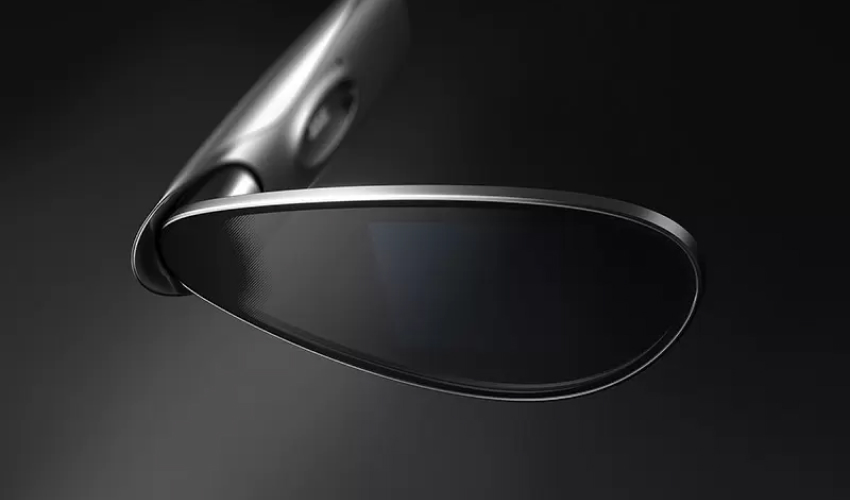 This product has a significant impact in the digital realm due to its exceptional translation and navigation features.
Let's now take a look at some of the key features of Oppo Air Glass
Key Features of Oppo Air Glass
It supports two display modes: 16-level grayscale and 256-level grayscale
Effectively supports four different methods of interaction: head moments, hand motions, touch, and voice
Oppo Air glasses can update weather & schedule remainders.
It comes with real-time translation features and offers the users two translation services for Chinese and English.
This Air glass also offers on-display navigation that provides directions via visual queues.
Tech Specs
Processor: Snapdragon wear 4100
Battery life lasts up to 3 hours on continuous usage and 40 hours on standby.
Weight: 30 grams and Software: ColorOS 11 or later
Colors available include a silver wing and black mirror
Average brightness up to 1400 nits and maximum brightness up to 3 million nits
Silicon-based micro-LED display
Price: According to the source, this AR Air Smart Glass is $745 (4,999 Yuan). You can check their official website or follow their website to know about the regular updates.
Note: According to the sources, Oppo launched their unique Air smart glasses in China, and there is no further information about the global launch of Oppo Air glass.
5. TCL Glasses
Gear up to embark on the immersive 140-inch screen anywhere and anytime. Gear up to embark on the immersive 140-inch screen anywhere and anytime. Yeah, TCL NXTWEARG provides a genuinely portable cinematic experience, complete with stereo speakers that replicate the immersive quality of a theatre.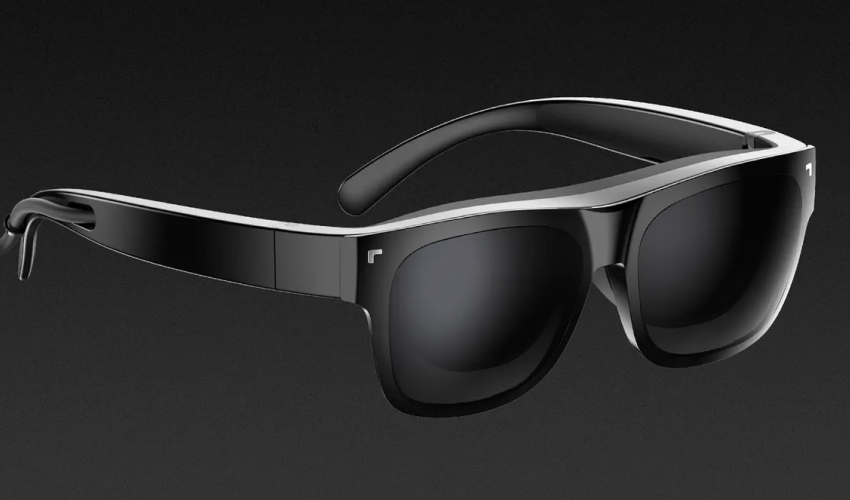 Furthermore, the company prioritizes the privacy of its users and has specifically designed the smart glass with this in mind. In contrast, TCL has made significant progress by developing a foldable, frameless, futuristic smart glass that is also gentle on the skin. Are you still in need of additional information? Simply visit their website and acquire this extraordinary gadget.
Key Features of TCL Glasses
Easy portability
Transparent display offers you privacy, and you can also see the real world.
Futuristic design makes this more convenient to use.
Compatible with many devices
Tech Specs
Dimensions: 187.35 x 159.3 x 42.8 mm for unfolded and 181 x 53 x 46 mm for folded.
Weight: 100g and Micro OLED display type
Dual 1080P display resolution.
The refresh rate is 60 Hz, and it has dual speakers.
USB-type C port that can connect with the display port
The accessory includes protective smart glasses care, three nose pads, a lens frame, and a glasses cleaning cloth.
Sensors supporting the system include an accelerometer, gyro, compass, etc.
Price: Pricing details are not available on their official website. You can approach the nearby store or refer to other e-commerce sites for detailed pricing. You can even contact the seller for pricing details.
6. Lenovo Thinkreality A3
Next on our list is Lenovo Thinkreality A3. It is a beautiful, smart glass for people who wish to create a workplace at a coffee shop.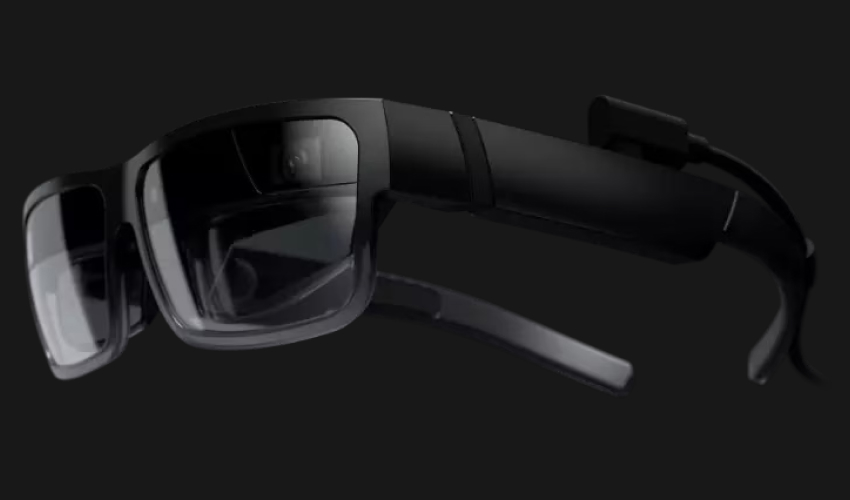 Yes, it's possible if you purchase the Lenovo Thinkreality A3 smart glasses. It assists its users in several ways, including safeguarding eyes, offering enhanced compatibility, etc. A3 smart glasses allow workers to face new working environments where they can witness 3D visuals, guided workflows, and remote collaborations.
Thus, you can give exceptional smart gadgets from Lenovo a shot to unlock new opportunities and get a wholesome virtual experience.
Key Features of Lenovo Thinkreality A3
Foldable frames are lightweight and easy to handle
Can effectively recognize voice, objects, and images
Head tracking system available
Easily create a virtual workshop anywhere
Safeguard your data as well as your eyes
Compatible with many devices, extendable options are also available
Can connect to a PC or mobile device via a removable USB-C cable
Tech Specs
AR smart glasses weigh about 130g
Binoculars have a 1080p resolution display
8MP RGB camera and software features include a barcode reader
The accessories kit encloses a protective carrying case, removable cable, and prescription inserts.
Price: There is no specific information about their pricing. So you can check their e-commerce sites or avail them in the nearby smart glass store.
7. Meta Ray Ban Smart Glasses
Last on our list is Meta Ray Ban Smart Glasses. Ray-Ban needs no introduction when it comes to the best eyewear. From sunglasses to smart glasses, Ray-Ban has marked its footprints in this industry. The brand has entered the Smart Glass segment as well.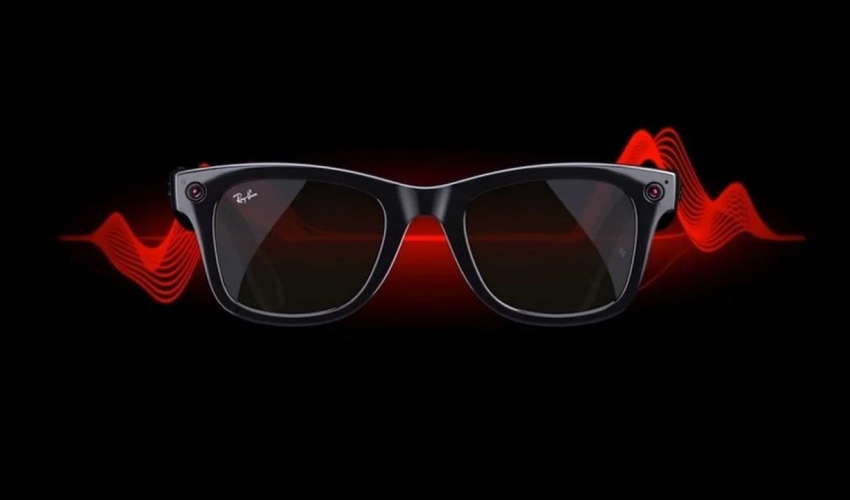 Ray-Ban has launched two different models of smart glasses: the Ray-Ban Meta Wayfarer and the Ray-Ban Meta Headliner. However, these two glasses differ only in model and color, and the rest of the features are the same. This implies that you can buy any of the two for the best experience.
Let's now take a look at the features of these renowned products.
Key Features of Meta Ray Ban Smart Glasses
Meta Ray Ban Smart Glasses are compatible with both iOS 14.4 and Android 10 and later.
Connect via Wi-Fi and Bluetooth
Rechargeable glasses last up to four hours, and once it is fully charged, they last up to 36 hours
It can save large files because it has 32 GB of memory
Sun-polarized lenses reduce light glare and eyestrain
Tech Specs
The accessory box includes glasses, a charging case, a cleaning cloth, and a reference guide.
The frame frame weighs up to 49.2 g, and the charging case weighs 133g.
12 MP ultra-wide camera, and the resolution is 3024 x 4032 pixels.
Two custom-built speakers and a custom 5-microphone that is 2 in the left arm, one nose pad, and 2 in the right arm.
Price: Both the Ray-Ban Meta Wayfarer and the Ray-Ban Meta Headliner are available for the same price, which is $329. You can buy them from Ray-Ban's website to create your workspace anywhere.
Last Few Words
Finally, this list encloses the 7 best smart glasses. We hope that this article helps you choose the best smart glass with enormous features and technical specifications. Using these glasses, you can witness the magical virtual world in front of your eyes and create your workspace or theater anywhere.