In the dynamic mobile technology arena, the clash of titans between Apple and Samsung continues unabated. The Samsung Galaxy s23 ultra has already made its mark, unveiled in February 2023, setting new standards for innovation and performance. On the horizon, Apple's response looms in the form of the eagerly anticipated iPhone 15 series, slated for release later this year.
This impending duel of cutting-edge features and design prowess has enthusiasts eagerly awaiting the face-off between the available excellence of the Galaxy s23 ultra and the yet-to-be-revealed marvels of the iPhone 15. As the rivalry surges ahead, let's explore the features that the iPhone 15 might bring to the table while delving into the proven specifications of the Samsung Galaxy S23, thus setting the stage for another captivating chapter in the age-old competition for technological supremacy.
Samsung Galaxy S23 Vs iPhone 15: Price and availability
Samsung Galaxy S23: Price and Availability
Released on February 17, 2023.
Available in two storage variants: 128GB and 256 GB.
samsung s23 price for the base model (128GB) starts at $799.99 / £849 / AU$1,349.
The higher storage variant (256GB) is priced at $859.99 / £899 / AU$1,449.
iPhone 15: Price and Availability Speculations
Apple maintains a consistent pattern for iPhone launches, favoring September's first or second week.
Probable announcement dates for iPhone 15: September 5, 6, 12, or 13.
Sales are expected to commence approximately one week after the unveiling.
The previous pricing model for iPhone 14 suggests iphone 15 price starting at $799 / £849 / AU$1,339 for the base model.
Analysts predict iphone 15 expected price increase due to higher production costs for the iPhone 15.
Possibility of Apple discontinuing the 128GB storage option, similar to decisions made by other manufacturers for their 2023 flagship devices.
Apple might reserve excluding the 128GB variant for the Pro models.
As the mobile industry eagerly awaits the release of the iPhone 15, the pricing and availability trends observed in the Samsung Galaxy S23 and Apple's historic patterns offer intriguing insights into what consumers might anticipate for Apple's upcoming flagship offering.
Samsung Galaxy Vs. iPhone 15:Display
Samsung Galaxy S23: Display
samsung galaxy s23 ultra is equipped with a 6.8-inch AMOLED screen.
Display resolution stands at 1440 x 3088 pixels.
It offers a high 120Hz refresh rate, ensuring smoother motion and interactions.
iPhone 15: Display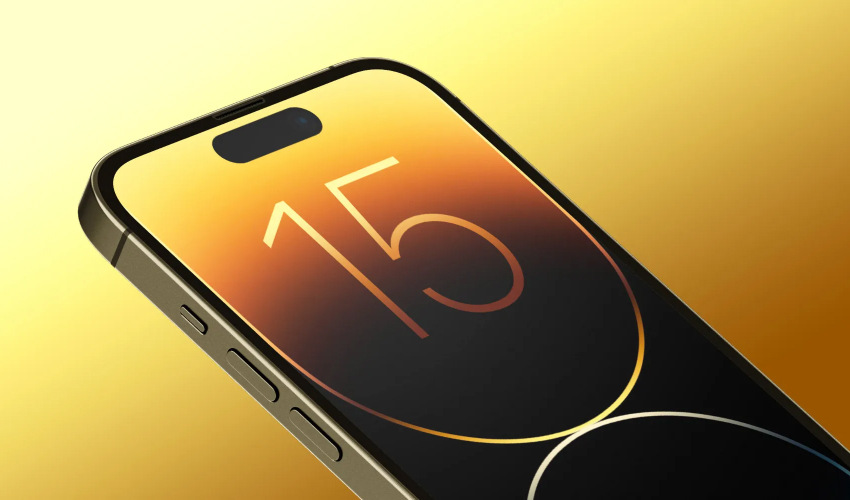 Source: 9to5Mac
Expected to feature a 6.1-inch OLED display.
Display resolution likely to be 1170 x 2532 pixels.
Anticipated to inherit the Dynamic Island design from the iPhone 14 Pro and Pro Max.
Dynamic Island design contributes to a more premium aesthetic.
Although having a lower refresh rate 60Hz compared to the Samsung Galaxy S23, the iPhone 15 might make up for it in other areas.
The battle of displays between the Samsung Galaxy S23 and the forthcoming iPhone 15 showcases contrasting features, with the Galaxy s23 ultra offering a higher refresh rate for smoother visuals. In contrast, the iPhone 15's display is poised to introduce a premium look and potentially enhanced functionality through the Dynamic Island design.
Samsung Galaxy Vs. iPhone 15: Design
Dimensions: 146.3 x 70.9 x 7.6mm.
Weight: 168g.
Flaunts a flat screen design with a punch-hole camera at the top.
The rear camera arrangement features individual protruding lenses, differing from the single camera block in previous models.
Slim bezels contribute to a modern high-end appearance.
The back is crafted from Gorilla Glass Victus 2, providing durability.
The frame is constructed from metal for a sturdy feel.
It boasts IP68 dust and water resistance, aligning with premium handset standards.
iPhone 15: Design Anticipations
iPhone 14 serves as a reference for possible dimensions and weight.
iPhone 14 measures 146.7 x 71.5 x 7.8mm and weighs 172g.
Expectations suggest a continuation of a sleek and modern design aesthetic.
Potential refinements in materials and build quality, aligning with Apple's premium standards.
An evolution in design could be in the cards, building upon the legacy of previous models.
iPhone 15 colors: Anticipated colors are Green, Midnight, Pink, Product (RED), Starlight, and Yellow.
In design, the Samsung Galaxy S23 showcases a sleek and robust construction with its signature flat screen and individual rear camera arrangement. The upcoming iphone 15 design is expected to adhere to Apple's tradition of refined aesthetics and could introduce subtle improvements to maintain its allure in the competitive landscape.
Samsung Galaxy Vs. iPhone 15: Cameras
Samsung Galaxy S23: Cameras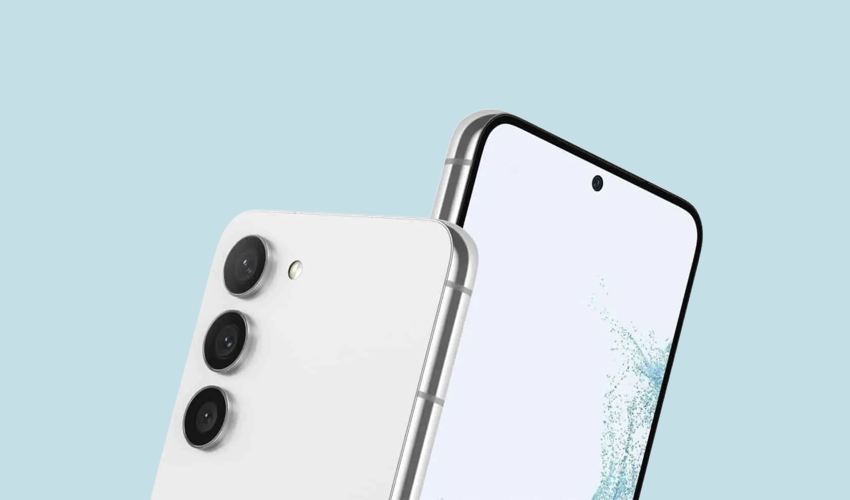 ⬤ Triple-camera system includes
50MP main sensor (24mm, ƒ/1.8).
12MP ultrawide sensor (13mm, ƒ/2.2).
10MP telephoto sensor (70mm, ƒ/2.4).
⬤ A comprehensive setup offers versatility and multiple focal lengths.
⬤ The Telephoto sensor enhances zoom capabilities, contributing to its overall camera prowess.
iPhone 15: Camera Upgrades
Expected to feature a dual-camera setup like the iPhone 14.
Speculated to inherit the 48MP primary sensor from the iPhone 14 Pro models.
Improvement from the 12MP primary sensor on the standard iPhone 14.
Unlikely to include a third telephoto sensor, putting it behind the Galaxy S23 in terms of zoom versatility.
Apple's reputation for optimizing camera performance despite megapixel differences remains a factor.
Selfie Cameras
Both phones are equipped with 12MP front-facing cameras.
Similar sensor specifications ensure a balanced comparison in selfie capabilities.
In smartphone photography, the Samsung galaxy s23 ultra enjoys an advantage with its comprehensive triple-camera setup, encompassing a range of focal lengths for versatile photography. The anticipated camera upgrades in the iPhone 15 demonstrate Apple's commitment to enhancing imaging performance, even though the absence of a third telephoto sensor might give the Galaxy S23 an edge in zoom capabilities.
Samsung Galaxy Vs. iPhone 15: Performance
Samsung Galaxy S23: Performance
Powered by Qualcomm's Snapdragon 8 Gen 2 Mobile Platform.
Standard 8GB RAM across all variants.
Efficient CPU clocked at 3.36GHz for enhanced performance and battery efficiency.
Expected to feature the A16 Bionic chip, akin to Pro-level predecessors.
Equipped with 6GB RAM, optimized differently compared to Android devices.
Performance differences between the Samsung Galaxy S23 and iPhone 15 may be marginal.
RAM comparisons between iPhones and Android devices need more straightforward relevance due to distinct memory utilization approaches.
Notable software distinction: Galaxy S23 runs Android 13 with Samsung's One UI 5.1, while iPhone 15 operates on iOS 17.
User preference will be vital in choosing the two, as both software ecosystems offer unique features and experiences.
While the galaxy s23 ultra and iPhone 15 specifications boast competitive performance profiles, the nuances of RAM usage and chip optimization make direct comparisons intricate. The defining factor might ultimately lie in the software realm, with Android 13 and One UI 5.1 gracing the Galaxy S23 and iOS 17 adorning the iPhone 15 – making the choice a matter of personal preference and familiarity.
Samsung Galaxy Vs. iPhone 15: Battery
Samsung Galaxy S23: Battery and Charging
Houses a 3,900mAh battery.
Offers 25W wired charging capability.
Supports 15W wireless charging.
Provides reverse wireless charging up to 4.5W.
iPhone 15: Battery and Charging
Expected to feature a larger battery compared to iPhone 14.
Rumored to have an 18% larger battery, reaching a capacity of 3,877mAh.
Presumed to retain 20W wired charging and 15W wireless charging from its predecessor.
May introduce 15W wireless charging compatibility with third-party chargers alongside Apple's MagSafe.
Anticipated to introduce reverse wireless charging functionality finally.
Battery Performance and Charging
IPhone 15 and Samsung Galaxy S23 will likely offer comparable battery life.
Samsung Galaxy S23 features a marginally larger battery (3,900mAh) than the rumored iPhone 15 battery (3,877mAh).
Charging speeds vary slightly on paper (25W vs. 20W wired charging for Galaxy S23 and iPhone 15, respectively), but practical differences are expected to be minimal.
The introduction of reverse wireless charging for iPhone 15 adds a new dimension to its charging capabilities.
The Samsung Galaxy S23 and iPhone 15 are poised for a balanced competition regarding battery life and charging. The Galaxy S23's slightly larger battery and marginally higher wired charging capacity are counterbalanced by the anticipated iPhone 15's larger battery and newly introduced reverse wireless charging feature.
Samsung Galaxy S23 Vs. iPhone 15:Audio Quality and Speakers
Both the Samsung Galaxy S23 and iPhone 15 incorporate a dual speaker system.
The dual speaker setup includes a main bottom-firing speaker and a secondary one in the earpiece.
Galaxy S23 has marked improvements in audio quality compared to its predecessors.
Audio quality on the iPhone 15 is expected to be competitive but will require thorough testing upon its release.
Speaker performance influences multimedia experiences, making it noteworthy for users who prioritize audio quality.
Haptic Feedback
Galaxy S23 offers commendable haptic feedback.
iPhone's Taptic Engine is renowned for its refined vibration alerts.
Taptic Engine provides precise and nuanced haptic feedback, enhancing the user experience.
Haptic feedback plays a role in improving interactions and notifications on smartphones.
While the Samsung Galaxy S23 and iPhone 15 sport dual speaker systems for audio output, the real-world audio quality and haptic feedback performance will need to be tested extensively post the iPhone 15's launch. The refined haptic experience delivered by Apple's Taptic Engine may offer an edge, but the overall audio quality and haptic preferences can be subjective and reliant on individual preferences.
Conclusion
In the ever-evolving rivalry between the Samsung Galaxy S23 and the upcoming iPhone 15, the technological titans continue to push the boundaries of innovation. While the Galaxy s23 ultra impresses with its advanced camera setup, versatile display, and robust performance, the iPhone 15 promises a formidable challenge with potential battery upgrades and the renowned A16 Bionic chip.
Both phones boast dual speaker systems and haptic capabilities, offering distinct experiences. As the competition unfolds, the choice between the samsung galaxy s23 ultra and iPhone 15 reflects personal preferences, whether Android's adaptability or iOS's seamless ecosystem. Ultimately, the clash between these two giants ensures that users can anticipate cutting-edge features and various choices in pursuing technological excellence.