In the dynamic landscape of remote work, 2023 has ushered in a new era of laptop innovation to elevate the work-from-home experience. The right laptop has become indispensable for enhancing productivity, connectivity, and versatility in this evolving professional paradigm. As demands shift and tasks diversify, 2023 brings forth an array of laptops designed to cater to these requirements.
This meticulously curated list unveils the ten best laptops that have set this year's standard for remote work. With powerful hardware, stunning displays, enduring battery life, and thoughtful designs, these laptops are not just devices but productivity enablers that have the potential to redefine how we work from home in 2023.
Here Best Laptops to Work From Home
Features:
CPU Options: Choose from the formidable Apple M2 Pro (12-core) to the powerhouse Apple M2 Max (12-core) processors, offering exceptional speed and efficiency.
Integrated GPU: Boasts an integrated GPU with up to 38 cores, ensuring seamless graphics performance for demanding tasks.
Massive RAM: Scale your multitasking abilities with up to 96 GB of unified memory, facilitating the smooth operation of resource-intensive applications.
Stunning Display: Experience visual brilliance on the 16-inch, 3456 x 2234 Liquid Retina XDR display, featuring mini-LED technology, 1,000 nits sustained brightness, wide color P3 gamut, and ProMotion technology.
Ample Storage: Store your files, projects, and media on a 512 GB to 8 TB SSD, ensuring fast access and efficient data handling.
Versatile Ports: Utilize 3 x Thunderbolt 4 (USB-C) ports, HDMI for 8K at 60 Hz support, an SDXC card slot, and an audio jack for versatile connectivity options.
Cutting-edge Connectivity: Embrace Wi-Fi 6E (802.11ax) and Bluetooth 5.3 for swift and reliable wireless connections.
Enhanced M2 Chips: Benefit from upgraded M2 chips, further improving performance and efficiency.
Extended Battery Life: Enjoy an exceptional battery life of up to 20 hours, granting ample work periods without constant recharging.
Pros:
Exceptional Performance: Apple's latest M2 chips deliver blazing-fast performance, making multitasking and resource-heavy tasks seamless.
Remarkable Display: The Liquid Retina XDR display with high brightness, wide color gamut, and adaptive refresh rates offers a stunning visual experience.
Long Battery Life: With up to 20 hours of battery life, this laptop ensures productivity without frequent interruptions for charging.
Versatile Ports: A mix of Thunderbolt 4, HDMI, and an SDXC card slot provides a range of connectivity options.
Premium Build: Apple's signature build quality and design aesthetics elevate the laptop's overall appeal.
Cons:
High Cost: The additional power and features come at a premium, making it a significant investment.
Limited Customizability: Upgrading components can lead to substantial cost increases, limiting customization options.
MacOS Ecosystem: While beneficial for MacOS enthusiasts, it might need to be more accommodating for users accustomed to other operating systems.
Also See: 5 Solid Reasons Why MacBooks Are Better Than Other Laptops in 2023
The Apple MacBook Pro 16-inch, equipped with cutting-edge hardware and remarkable features, stands as a beacon of innovation in laptops. Its unmatched performance, stunning display, and impressive battery life make it the best laptop for working from home.
Features:
Impressive CPU: Equipped with the 12th Gen Intel i7 processor for robust and speedy performance.
Graphics Excellence: Enhanced by the NVIDIA RTX 3050 Ti GPU, delivering vivid and powerful visuals.
Ample Storage: Accommodates vast data with a spacious 2TB NVMe SSD.
Robust Memory: 32 GB RAM ensures smooth multitasking and responsiveness.
Immersive Display: 15.6-inch FHD+ screen with 500-nit brightness and anti-glare technology offers a captivating visual experience.
Enhanced Security: Built-in fingerprint reader provides convenient access while enhancing data security.
Versatile Connectivity: Features Thunderbolt 4 ports, USB C ports, SD card reader, and headphone/microphone audio jack for seamless connectivity.
Pros:
Captivating Visuals: OLED display coupled with the potent GPU offers stunning, lifelike graphics.
Exceptional Performance: 12th Gen Intel i7 processor excels in handling multitasking and demanding tasks.
Elegant Design: The sleek, compact design exudes sophistication and portability.
Customizable Options: Multiple storage and RAM choices cater to various productivity needs.
Modern Security: The built-in fingerprint reader ensures secure access to your device.
Diverse Connectivity: Thunderbolt 4 and USB C ports enable efficient data transfer and peripheral integration.
Cons:
Incremental Upgrades: Limited advancements from previous XPS 15 models, particularly in battery life and webcam quality.
USB-A Ports Absence: Lack of USB-A ports might necessitate adapters for specific peripherals.
The Dell 2023 XPS 15 amalgamates performance prowess, captivating visuals, and versatile connectivity, catering to gamers, graphic designers, and professionals seeking an impactful Windows laptop without compromises. It's one of the best laptop for working from home.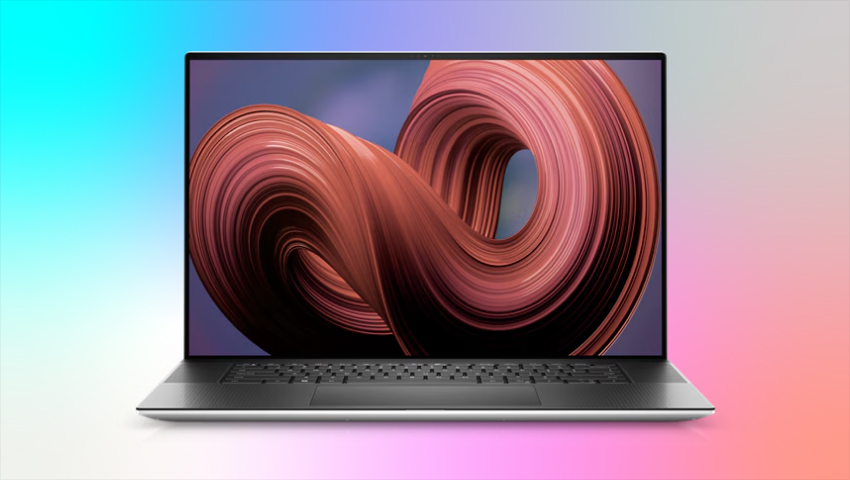 Key Features:
Potent Processor Options: Offers the choice of 12th Gen Intel Core i5-12500H to i9-13900H and 13th Gen Intel Core i9-13900H processors for seamless performance.
Graphics Variability: Equipped with Intel UHD Graphics or the NVIDIA GeForce RTX 4080, catering to diverse graphics needs.
Versatile RAM Configurations: Ranges from 8GB DDR5 to an impressive 64GB DDR5, ensuring smooth multitasking.
Immersive Display Choices: Pick a 17″ FHD+ 1920 x 1200 non-touch or UHD+ 3840 x 2400 InfinityEdge touch display boasting anti-glare technology and 500-nit brightness.
Expansive Storage: Options span from 512GB PCIe NVMe SSD to an impressive 8TB (2 x 4TB) PCIe NVMe SSD, accommodating extensive data storage needs.
Advanced Port Setup: Features 4 x Thunderbolt 4 (USB Type-C) with DisplayPort and Power Delivery, with 1 x universal audio jack and 1 x SD-card slot.
Cutting-edge Connectivity: Equipped with Intel Killer Wi-Fi 6 1675 (AX211) 2×2 and Bluetooth 5.2 for swift wireless connections.
Pros:
Elegantly Crafted: Blends aesthetics and build quality, presenting an appealing and sophisticated exterior.
Exceptional Trackpad: Offers a standout trackpad experience, ideal for on-the-go navigation.
Extended Battery Life: Impressive longevity of over 10 hours, even under substantial workloads.
Generous 17-Inch Screen: A spacious and immersive display elevates your visual experience.
Cons:
Limited Port Selection: The laptop's port options could be more constrained, necessitating adapters for various connections.
High Cost of Upgrades: Upgrading components may lead to elevated costs, potentially impacting overall value.
The Dell XPS 17 balances performance and elegance, offering a selection of processors, captivating display choices, and seamless connectivity. Despite its slight limitations in ports and the potential cost of enhancements, its refined design, efficient trackpad, and impressive battery life make it an appealing choice for those pursuing power and style. It's one of the best laptop for work from home.
Features:
Efficient Intel 13th Gen Core i7 Processor: Embrace the swift and smooth with the 13th Gen Core i7 processor, seamlessly maneuvering through your workdays and amplifying your creative endeavors. Editors and designers will relish the expedited creative process, leaving bottlenecks in the rearview.
Elevated RAM and Swift SSD: Sporting an impressive 32GB RAM and a 1TB NVMe SSD, be prepared for a storage utopia sans loading lags or space conundrums. Seamlessly juggle tasks and projects without missing a beat.
Vibrant 120Hz WQHD+ OLED Display: Immerse in the brilliance of a 14-inch 120Hz WQHD+ OLED Display with DCI-P3 100% and HDR support. Anti-glare technology ensures vivid colors and crystal-clear visuals, elevating your viewing experience.
Secure and Seamless Login: Witness the future of security with the full HD webcam equipped with Windows Hello facial recognition. Unlock your device effortlessly with a glance or a touch, ensuring your data remains safeguarded.
Diverse Port Array: A versatile spectrum of connectivity awaits – two Thunderbolt 4 USB-C ports, an audio jack, a micro-SD slot, and a USB 3.2 Gen 2 Type-A. Your connectivity needs are catered to, ensuring you're equipped for any scenario.
Immersive Audio with Dolby Atmos: Envelop yourself in cinematic audio splendor courtesy of the two 3W stereo speakers integrated with Dolby Atmos. Experience a 360-degree auditory journey akin to theater magic.
Aesthetically Inspired Design: Behold the iridescent elegance that defines the LG Gram 2023. An ethereal design encapsulating an invisible touchpad creates an aura of modern sophistication, setting you apart from the crowd.
Feather-Light Portability: At an astonishingly light 2.2 pounds, this laptop effortlessly accompanies your mobile work life. Its compact design is tailored for busy professionals on the go.
Enduring Battery Power: The LG Gram boasts a robust and rapidly charging battery, ensuring your productivity never falters. With up to 12 hours of battery life, stay connected and engaged throughout your day.
Pros:
Robust Processing Power: The Intel Core i7 processor ensures seamless task navigation.
Feather-Light: At just 2.2 pounds, it's an ultra-portable companion for your journey.
Immersive Display: The OLED display presents stunning visuals with vibrant colors.
Cutting-Edge Security: Windows Hello facial recognition and fingerprint login provide top-notch security.
Connectivity Hub: A diverse range of ports caters to various connectivity needs.
Extended Battery Life: A long-lasting battery keeps you powered upto12 hours.
Cons:
Moderate Speed: Might exhibit slightly slower performance than laptops in a similar price range.
Slight Display Wobble: The screen might wobble, though this is common among LG Gram models.
Not for Heavy Workloads: Designed for light to moderate workloads; might not be suitable for resource-intensive tasks.
The LG Gram Style 2023 offers a symphony of elegance and functionality. Suited for the aesthetically inclined seeking a laptop for moderate workloads, it thrives with a potent processor, impressive battery life, captivating display, and forward-thinking security features. It's one of the best laptop for work from home.
Features:
Effortless Processing: Harness the power of up to a Core i7 CPU, ensuring seamless multitasking and high-speed operations to amplify your productivity.
Graphics Brilliance: Elevate visual experiences with the NVIDIA GeForce MX550 2GB GDDR6 GPU, rendering graphics with precision and clarity.
Expansive Memory: Experience unparalleled efficiency with up to 48GB DDR4-3200 RAM (16GB soldered + 32GB SO-DIMM), facilitating smooth multitasking and data handling.
Immersive 16:10 Display: Immerse yourself in the generous 16-inch, 16:10 (1920×1200) screen real estate, ideal for data-intensive tasks and multitasking.
Capacious Storage: Up to 2TB M.2 2280 SSD accommodates vast data storage, eliminating constraints and enhancing accessibility.
Versatile Connectivity: Experience diverse connectivity options with Intel Wi-Fi 6E AX211 2×2 AX, Bluetooth 5.1 or above, and the Fibocom L860-GL-16 4G CAT16 for seamless networking.
Robust Port Array: A comprehensive port selection includes 2 x USB-A 3.2 Gen 1, RJ45, 2 x Intel Thunderbolt 4, 1 x HDMI 2.0, Headphone/mic combo, and a SIM card slot, ensuring compatibility with various peripherals.
Durability Personified: Achieve peace of mind with MIL-STD 810G durability certification, designed to withstand rugged usage scenarios beyond the confines of your workspace.
Enhanced Security: Engage ThinkShield security features, a camera shutter, fingerprint scanner, and Windows Hello for facial recognition, ensuring your data remains safeguarded.
Pros:
Ample Screen Space: The 16-inch 16:10 display offers an extensive workspace perfect for data-intensive tasks.
Extended Battery Life: Enjoy prolonged usage with a long-lasting battery, minimizing interruptions during work.
Rugged Design: MIL-STD 810G rating guarantees durability, making it a suitable companion beyond the desk.
Optimized Data Entry: Full keyboard and numpad facilitate efficient data handling and entry.
Robust Security Suite: ThinkShield, camera shutter, fingerprint scanner, and Windows Hello ensure top-tier data protection.
Cons:
Trackpad Experience: The trackpad might occasionally deliver a clunky user experience.
Limited Thunderbolt 4 Ports: The availability of Thunderbolt 4 ports could be relatively restricted.
More See: 10 Best Budget Laptops For Students in 2023
The Lenovo ThinkPad T16 Gen 1 orchestrates a symphony of efficiency and durability. Ideal for data-intensive tasks, its expansive display and feature-rich design cater to diverse work requirements. While the trackpad experience may have occasional hiccups, the T16's enduring battery life, fortified security suite, and rugged build make it a stalwart companion for work-from-home scenarios. It's the best laptop for remote work.
Introducing the ASUS 2023 Newest Vivobook, an embodiment of portability, performance, and affordability. Unveil its distinctive features tailored for professionals on a budget
Efficient Ryzen 3 Power: Experience seamless multitasking prowess with the AMD Ryzen 3 3250U processor and 8GB of DDR4 RAM. Handle programming, gaming, and freelance tasks with ease.
Swift SSD Storage: Embrace 128GB of SSD storage for rapid data access. Although compact, the storage is swift, ensuring quick file retrieval and system responsiveness.
Versatile Model Variations: Choose from model variations offering 12GB RAM + 256GB SSD or 20GB RAM + 512GB SSD for enhanced performance, albeit at a slightly higher cost.
Engaging Display: A captivating 14-inch display with a 1600 x 768 pixels resolution provides a clear and vibrant workspace, ideal for various activities.
Integrated Radeon Graphics: Visuals come to life with integrated AMD Radeon Graphics, enhancing multimedia experiences and casual gaming sessions.
Windows 11 in S Mode: Enjoy the benefits of Windows 11 in S Mode, combining enhanced security with optimized performance for uninterrupted work experiences.
Pros:
Efficient Processing: The AMD Ryzen 3 processor ensures smooth multitasking.
Engaging Visuals: The 14-inch display with integrated Radeon Graphics enhances visual experiences.
Portability: Lightweight design caters to active professionals.
Enhanced Security: Windows 11 in S Mode provides improved security features.
Variation Options: Choose from different model variations to meet your performance needs.
Cons:
Limited Storage Capacity: The provided 128GB SSD might require careful file management.
Graphics Limitations: Integrated Radeon Graphics might not suffice for graphics-intensive applications.
The ASUS 2023 Newest Vivobook excels as a budget-friendly choice for work-from-home professionals. While it boasts efficient performance, a sleek display, and enhanced security, it may necessitate prudent storage management and might need to be more optimal for graphics-heavy tasks. It's the best laptop for remote work.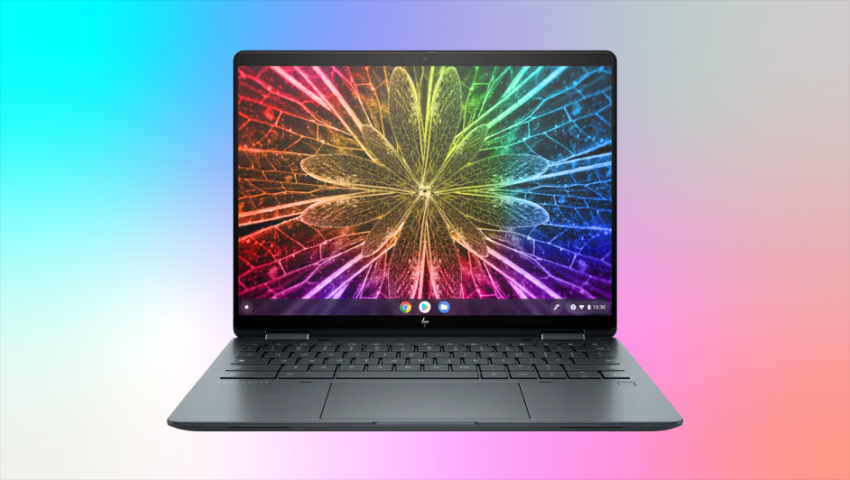 Explore the HP Elite Dragonfly Chromebook, a pinnacle of enterprise-grade excellence. Unveil its distinct features that redefine your work experience
Potent Intel Core Processing: Options ranging from the 12th Gen Core i3-1215U to the Core i7-1265U vPro deliver unparalleled performance for multitasking and productivity.
Intel Iris Xe Graphics: Integrated Intel Iris Xe Graphics seamlessly render visuals, enhancing graphics and multimedia experiences.
Ample RAM: Choose between 8GB and 32GB of RAM, ensuring efficient multitasking and swift application handling.
Luminous Touchscreen Display: The 13.5″ Anti-Glare WLED+LBL UWVA WUXGA+ touchscreen, boasting 400 nits, offers a captivating canvas for your work endeavors.
Rapid PCIe NVMe SSD: Storage options of 128GB to 512GB PCIe NVMe SSD guarantee rapid data access and efficient file management.
Versatile Thunderbolt 4 Ports: Dual Thunderbolt, 4 USB-C ports with PD and DisplayPort 1.4 capabilities, provide versatile connectivity options.
Comprehensive Port Array: Additional ports include SuperSpeed USB Type-A, HDMI 2.0, and a stereo headphone/microphone combo jack, ensuring connectivity versatility.
Cutting-Edge Connectivity: Intel Wi-Fi 6E AX211 (2×2) and Bluetooth 5.3 guarantee seamless networking and device interactions.
Pros:
Exceptional Performance: The 12th Gen Intel Core processors and Iris Xe graphics deliver remarkable computing power.
Elegant Display: The 13.5″ touchscreen offers a vibrant and responsive workspace.
Enterprise-Grade Security: Intel vPro processing options provide IS/IT departments with robust security measures.
Legacy App Compatibility: A year-long subscription to Parallels for Chrome OS enables running legacy Windows apps.
Optional 5G/LTE Connectivity: Stay connected on the move with the optional 5G/LTE connectivity.
Cons:
Premium Price: The top-tier SKUs of the HP Elite Dragonfly Chromebook can be relatively expensive.
Additional Security Costs: Enterprise-level security features may incur extra charges.
The HP Elite Dragonfly Chromebook emerges as a trailblazer for enterprise productivity. With robust processing, a captivating display, and options for enhanced security, it caters to professionals seeking elevated performance. It's an excellent choice for work from home laptop.
Discover the HP Pavilion 15, an artfully crafted solution catering to artists, designers, developers, and freelancers. Unleash its powerful features and sleek design to enhance your productivity.
Dynamic Ryzen Processing: Equipped with the Ryzen 3 3250U processor, Pavilion 15 excels in multitasking, suiting resource-intensive tasks.
Integrated Radeon Graphics: Integrated Radeon Graphics elevate visuals, offering a smooth experience for design and multimedia endeavors.
Swift SSD and Ample RAM: The 512 GB SSD and 16 GB DDR4 RAM facilitate efficient data access, storage, and multitasking.
Vivid 1080p Display: The 15.6-inch 1080p FHD IPS display ensures vibrant visuals, though color accuracy might need to be higher for graphics-focused tasks.
Secure Fingerprint Access: A fingerprint lock provides seamless and secure access to your laptop, safeguarding your data.
Cost-Effective Design: With a starting price of around $700, Pavilion 15 delivers remarkable value for its performance and features.
Pros:
Economic Performance: The Ryzen processor caters to diverse workloads without breaking the bank.
Generous Storage and RAM: The laptop's storage and memory exceed expectations for its price range.
Enhanced Security: A fingerprint reader ensures secure access to your device.
Decent Display Quality: The 1080p FHD IPS display presents vibrant visuals for everyday tasks.
Cons:
Battery Constraints: The battery life might require frequent charging, lasting around 6-7 hours.
Limited Graphics: The absence of a discrete graphics card affects graphics-intensive tasks.
Port Limitations: The port selection might not suffice if you rely on various peripherals.
The HP Pavilion 15 strikes a harmonious balance between budget and performance. At the same time, the display might not meet the highest color accuracy standards, but its robust processor, ample storage, and cost-effective design position it as an excellent option for professionals seeking reliable yet affordable laptops. It's an excellent choice for work from home laptop.
Explore the newly launched Asus ROG Strix SCAR G834JY, a powerhouse designed to elevate your work experience. Unveil its remarkable features that redefine high-performance computing
Dominant Core i9 Processing: Embrace the supremacy of the 13th Gen Intel Core i9-13980HX processor, catering to demanding workloads with unrivaled speed and precision.
Astounding RTX 4090 GPU: NVIDIA GeForce RTX 4090 Laptop GPU transforms graphics-intensive tasks into seamless endeavors, delivering outstanding visual excellence.
Unparalleled DDR5 RAM: A staggering 32 GB DDR5 memory enables seamless multitasking and efficient execution of resource-intensive programs.
Epic ROG Nebula Display: The 18-inch ROG Nebula Display with QHD+ 16:10 (2560 x 1600) resolution, Dolby Vision HDR, and a 240Hz refresh rate offers an awe-inspiring viewing canvas, perfect for creative tasks.
Ample and Swift Storage: Enjoy 2 TB of PCIe 4.0 NVMe M.2 Performance SSD in RAID 0 configuration, providing rapid data access and extensive storage.
Versatile Port Selection: Features include Thunderbolt 4, USB Type-C, USB Type-A, HDMI 2.1, 2.5G LAN, and a 3.5mm Combo Audio Jack, catering to various connectivity needs.
Pros:
Premier Performance: 13th Gen Intel Core i9 processor and RTX 4090 GPU deliver unmatched power.
Immersive Display: The 18-inch QHD+ Nebula Display presents visuals with exceptional clarity and detail.
Impressive Sound System: The 4-speaker Dolby Atmos sound system elevates your auditory experience.
Storage Supremacy: 2 TB PCIe 4.0 NVMe SSD in RAID 0 ensures swift and capacious data storage.
Cons:
Limited Portability: The substantial weight of over 9 lbs might hinder portability for on-the-go professionals.
Connectivity Constraints: The availability of Thunderbolt 4 and USB ports is limited.
The Asus ROG Strix SCAR G834JY asserts its dominance as a pinnacle of high-performance computing. With cutting-edge processing, an immersive display, and abundant storage, it caters to demanding tasks quickly. It's an excellent choice for work from home laptop.
Explore the Lenovo 2023 Yoga 7i, an epitome of high color accuracy and professional performance. Unveil its exceptional features that redefine work-from-home dynamics:
Intel Evo Platform i5 Power: Embrace the 12th Intel Evo Platform i5 processor, ensuring seamless multitasking and fluid user experiences.
Immersive 2.5K IPS Display: The 16-inch 2.5K IPS touchscreen display boasts vibrant colors, sharp details, and impeccable color accuracy, ideal for design, video editing, and animation tasks.
Impressive Intel Iris Xe Graphics: Integrated Intel Iris Xe graphics enhance visuals, ensuring smooth performance for graphics-focused activities.
Swift and Ample Storage: A generous 1 TB PCIe SSD guarantees lightning-fast responsiveness and substantial storage for large files and multitasking.
Versatile 2-in-1 Design: The laptop effortlessly transitions from laptop to tablet mode, adapting to your creative needs.
Backlit Keyboard Convenience: The backlit keyboard facilitates comfy typing, regardless of the lighting conditions.
Pros:
Vivid Display: The 2.5K IPS touchscreen display excels in color accuracy and sharpness.
Intel Iris Xe Graphics: Integrated graphics ensure impressive visuals and performance.
Versatile 2-in-1 Design: The laptop's flexibility caters to various tasks and preferences.
Enhanced Usability: Backlit keyboard provides comfortable typing across multiple lighting conditions.
Cons:
Graphics Limitation: Integrated graphics need to handle applications with high graphics demands.
USB Port Constraints: Limited USB 3 ports could potentially limit connectivity options.
The Lenovo 2023 Yoga 7i shines as a workstation where precision meets performance. At the same time, integrated graphics and a narrow selection of USB ports pose minor limitations. It's an excellent choice for work from home laptop.
Conclusion
In the realm of remote work, the year 2023 has introduced a myriad of laptops tailored to redefine productivity and convenience. From powerhouses like the Asus ROG Strix SCAR G834JY to the versatile Lenovo 2023 Yoga 7i, these devices reflect a fusion of performance, design, and adaptability.
Professionals seeking high color accuracy can find solace in the Lenovo Yoga 7i, while the LG Gram Style's simplicity suits moderate workloads. As the digital landscape evolves, these ten work from home laptop stand as beacons of innovation, each catering to specific needs, reminding us that technology's seamless integration with work is an endless journey of exploration and enhancement.