This topic seeks to inform and empower readers with the knowledge they need when seeking an ideal power bank for their mobile devices. Finding a power bank perfect for your lifestyle demands can be challenging due to the vast selection of brands and models in today's market.
With this article, we aim to provide you with information on the best power bank for mobile. We're here to ensure you stay connected no matter where life takes you, so join us as we explore what constitutes "unsurpassed" portable charging performance!
Here are The Best Power Banks for Mobile
1. Mi Power Bank 3i 20000mAh with Triple Output and Dual Input Port
It has 18W Fast Charging, making it the Ultimate Portable Charging Solution for On-the-Go Users.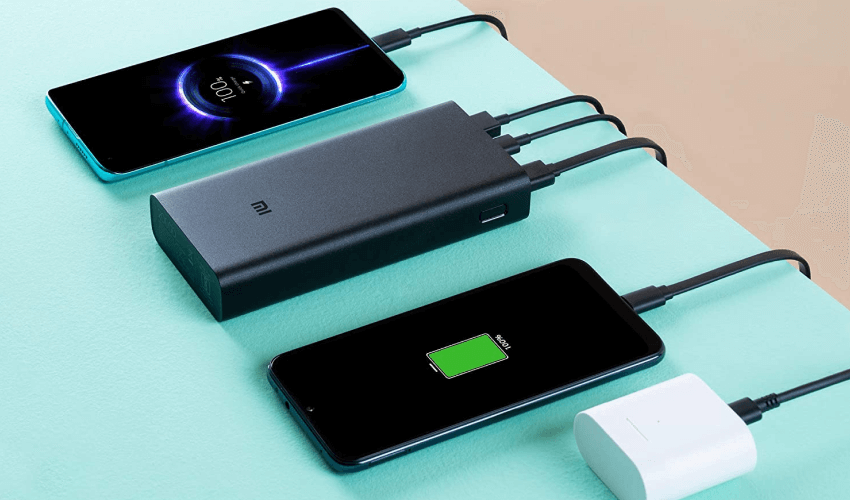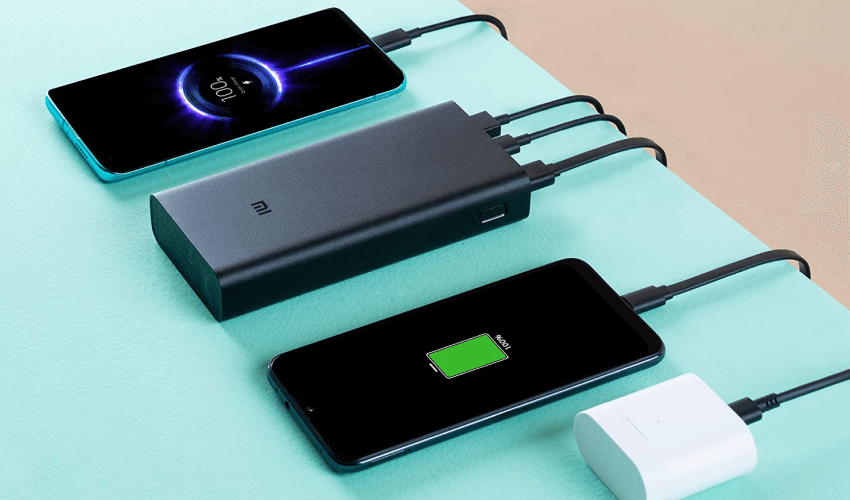 Are you constantly on the go, needing a reliable power source? Look no further than Xiaomi's Mi Powerbank 3i.
Price: ₹ 2,049
Features
Capacity: This powerful device offers an impressive capacity of 20,000 mAh, triple output ports, and dual input port capabilities so that multiple devices can be charged simultaneously, directly or wirelessly.
Design: Not only is this remarkable battery life ideal for powering heavy gamers and streaming enthusiasts alike, but its slim design allows easy storage in bags or backpacks, meaning users will have peace of mind knowing they won't run out of juice while away from their home base.
Protection: Thanks to sophisticated circuitry and high-level safety measures such as temperature resistance technology, users are ensured safe usage each time without any potential risk shocks overcharging, etc.
Batteries: The 6 LG 18650 batteries inside ensure your experience of efficient charging, keeping devices topped up all day long, whatever adventure comes next!
2. Syska P055OX 5000 mAh Lithium Polymer Power Bank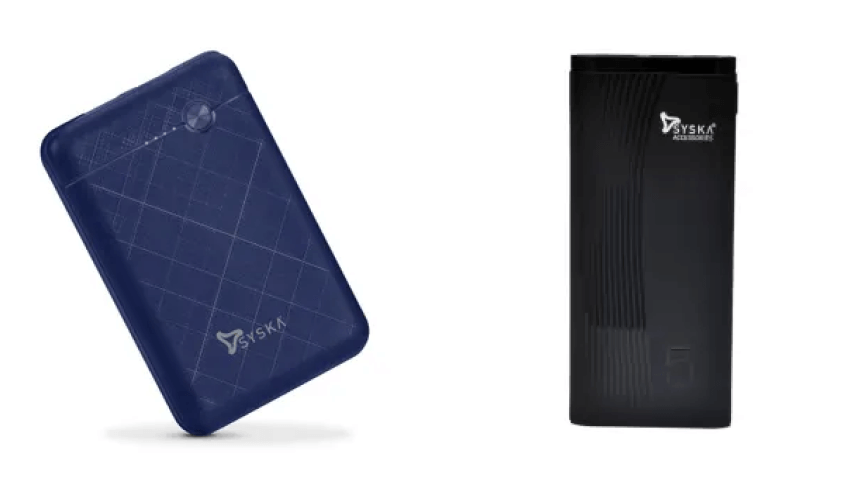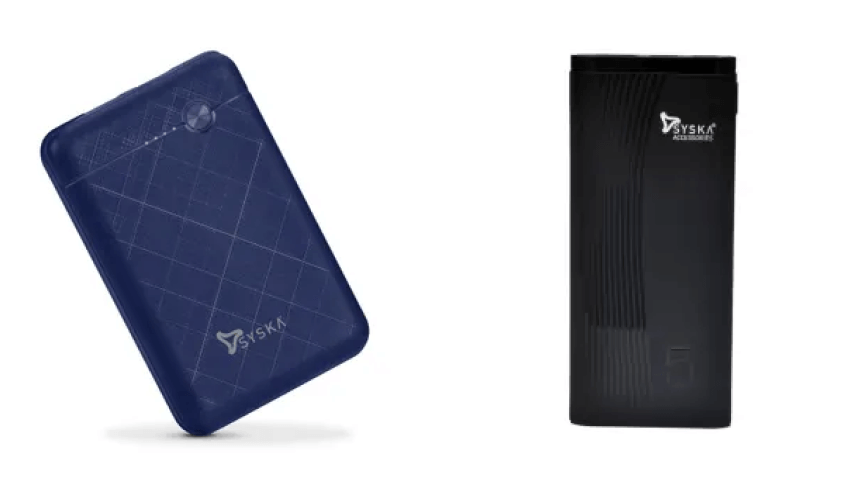 Price: ₹ 509
Features
Power: The Syska P055OX 5000 mAh Lithium Polymer Power Bank is the perfect solution for anyone who needs to stay connected on the go.
Capacity: This powerful power bank features a high degree of 5,000mAh and fast charging technology that quickly juices up your phone or tablet with minimal wait time.
USB: It also includes two USB ports for dual device charging, so you can charge two devices simultaneously without taking up extra space in your bag.
Design: The design is sleek, and the size compact enough to carry around easily wherever you go.
Universal compatibility: allows use across various types of electronics, such as mobile phones, tablets, etc.
3. Ambrane 20000mAh Power Bank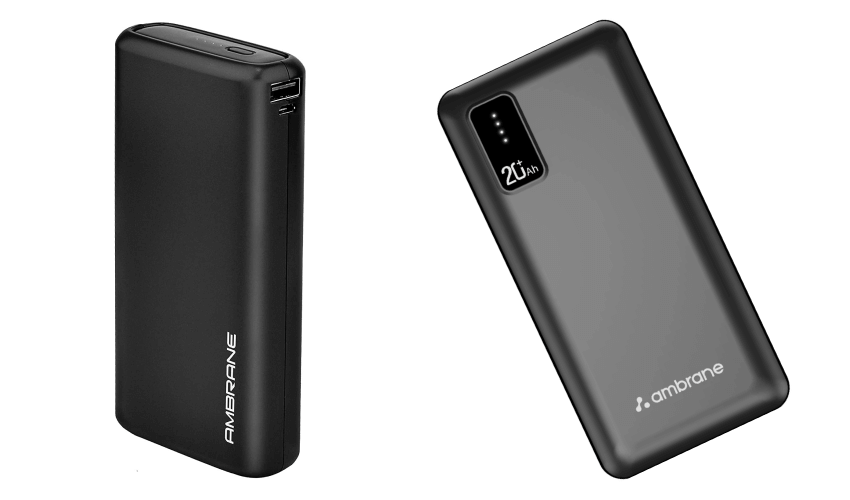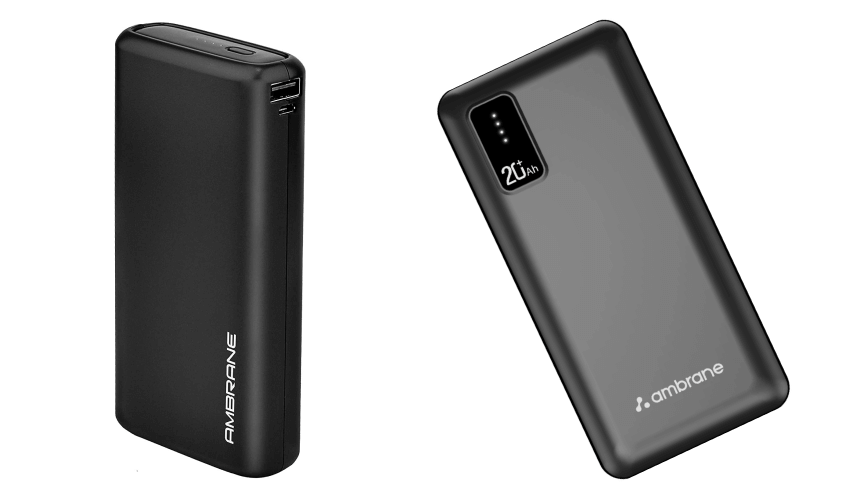 Price: ₹ 1,799
Features
Performance: This device has been designed especially for people who travel frequently and expect top performance from their mobile accessories.
Capacity: Boasting an incredible amount of 20,000mAh, this power bank can quickly charge multiple smartphones without compromising efficiency.
Cells: The advanced lithium polymer battery cells provide optimum charging output even after prolonged usage and offer overcharge protection, thus keeping your electronics safe from damages caused by extended use or overheating problems due to excess current consumption during heavy Charging sessions!
Protection: Furthermore, specifications such as Short Circuit Protection & Over Discharged Protection integrated into this device make it ideal for those needing reliable, high-powered portable chargers they can depend upon regardless of where they go!
Design: Finally, this stunning piece sports a sleek design making it the perfect companion when traveling. Plus, 20W fast charging
4. Realme 20000 mAh Power Bank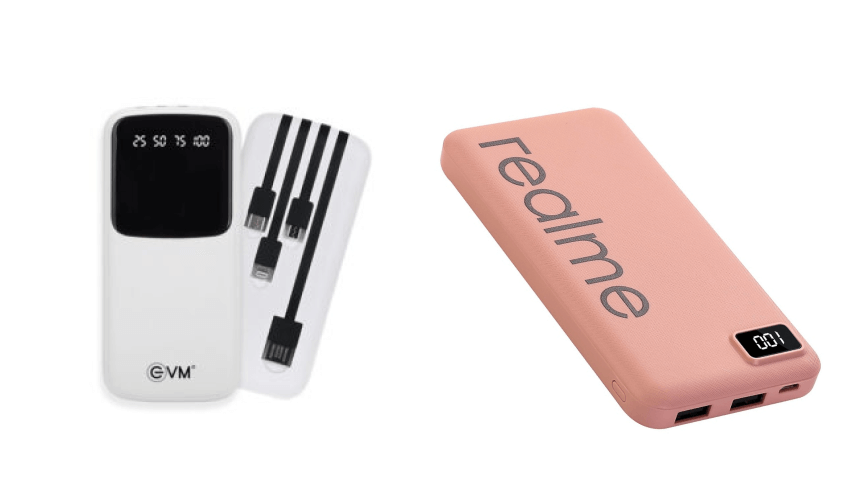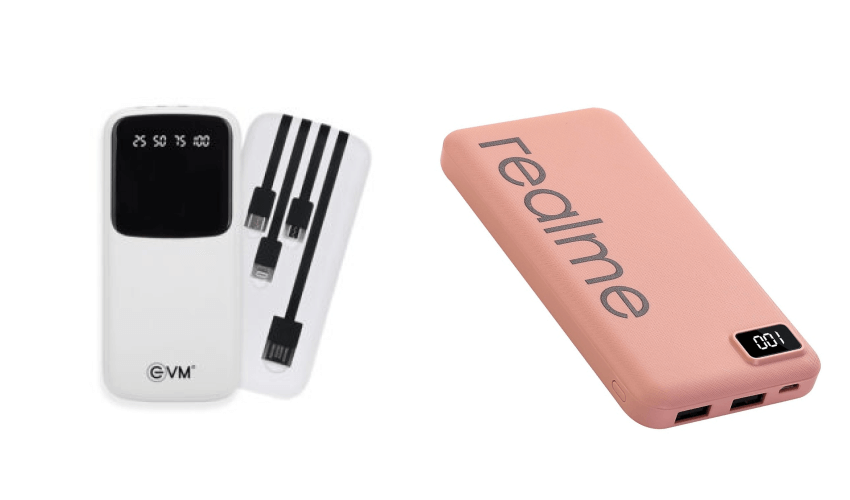 Price: ₹ 1,819
Features
Dual port: With an efficient dual port input of 12V-2A/9V-3A that ensures quick charging for all mobile phones, tablets, and even laptops, it provides ample backup time without worrying about drained batteries.
Battery: Its lithium polymer battery also adds more efficacy with its voltage stabilization circuit protection system that prevents overcharging or short-circuiting due to accidentally leaving the device plugged in overnight.
USB: The USB ports deliver high-speed output from 18W, so you can charge two devices simultaneously while traveling or working remotely – giving you enough flexibility but not weighing down your laptop bag too much!
Design: This portable charger looks sleek with its black matte finish design as well, making sure it fits right into any professional environment quickly yet remaining strong throughout long travels as well against wear & tear caused by everyday use – just what one needs when kept close at hand every day!
Efficiency: All this combined makes Realme's 200000mah power bank worth considering if you're looking for something reliable yet stylish which gets the job done fast while dealing away some extra stress out of daily life!
5. PTron 10000 mAh Lithium Polymer Dynamo Pro Power Bank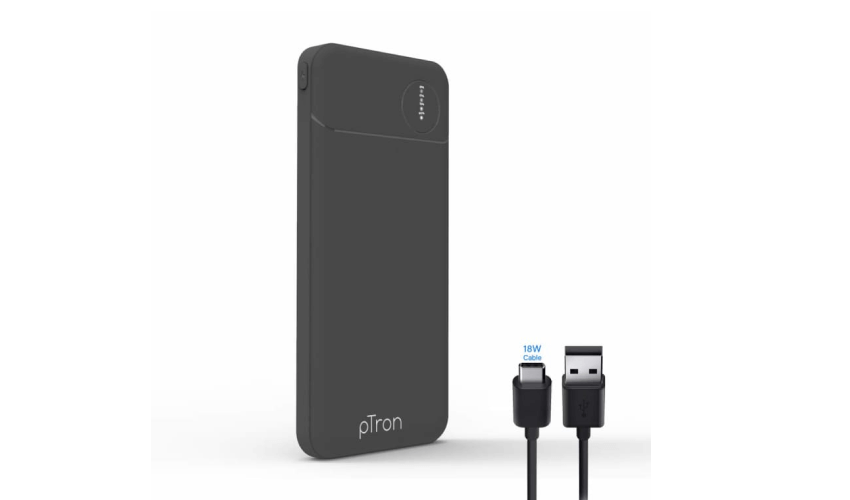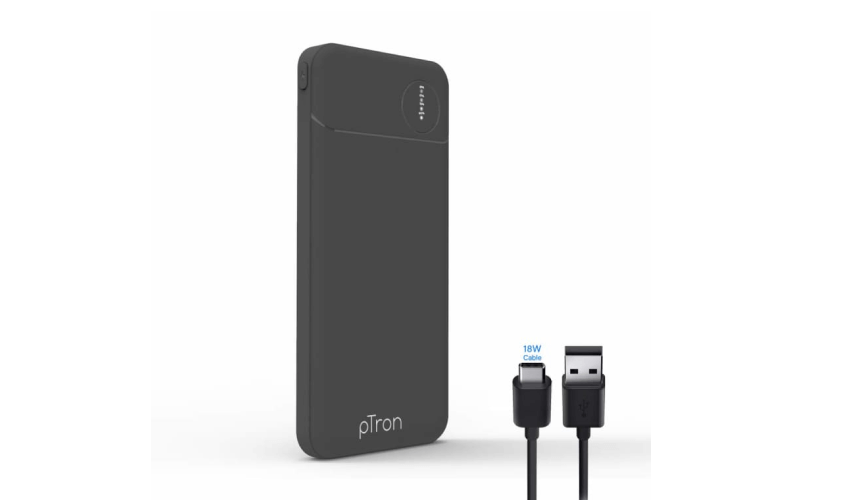 Price: ₹ 799
Features
Capacity: This 10000mAh Lithium Polymer Power Bank from PTron provides an unbeatable combination of high capacity and convenience for all your charging needs wherever you go. Features 18W fast charging and LED indicator lights.
USB: Equipped with two USB Outputs – one port for fast charging most Smartphones in a jiffy; the second port for reliable & safe delivery of enough charge to last throughout the day!
Design: Its compact yet robust design makes it easy to carry around due to its lightweight & slim structure despite having such a mammoth battery storage unit.
Protection: Safety features like temperature resistance ensure efficient operations while microchipping protection safeguards against short circuits and overcharging, protecting both devices connected simultaneously without any hassle or worry about device damage!
Also See: How to Avoid Mobile Phishing Scams and Protect Personal Data
6. CROMA 10000 mAh Power Bank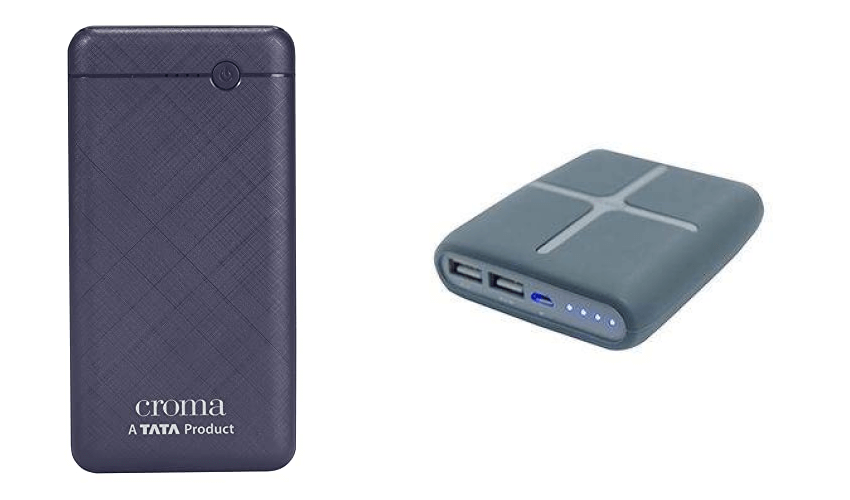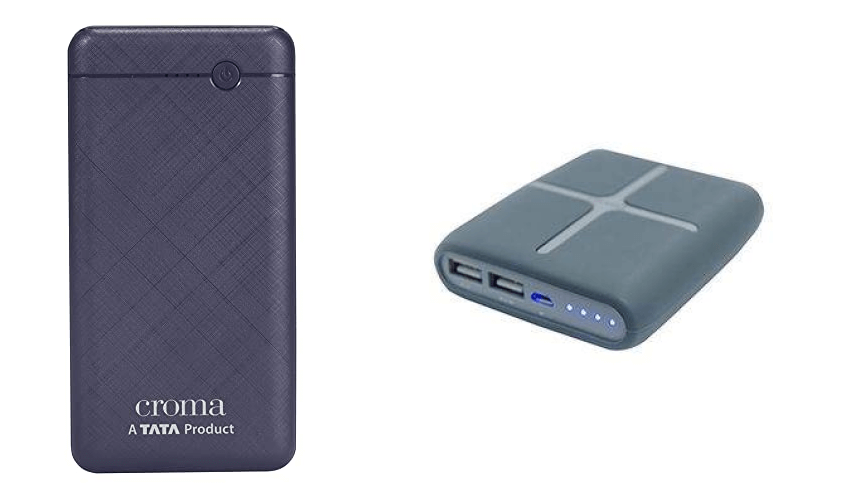 Price: ₹ 699
Features
The perfect way to stay charged on the go is to get this CROMA 10000 mAh Lithium Polymer Power Bank for only ₹ 699! Crafted from superior quality materials, its sturdy body makes it a reliable and durable companion.
Cells: Its top-of-the-range lithium polymer cells are designed to deliver high performance with enhanced safety features, including over-current, short circuit, and overtemperature protection.
Display: The LED indicators give you an idea of available charges so that you don't run out unexpectedly while traveling or working away from home.
USB: Dual USB with quick charging capabilities, recharge your power bank in no time using any standard USB port charger—be it a wall outlet or PC/laptop USB ports, etc.—ideal when there is nowhere else to access electricity.
7. Ambrane 15000mAh Powerbank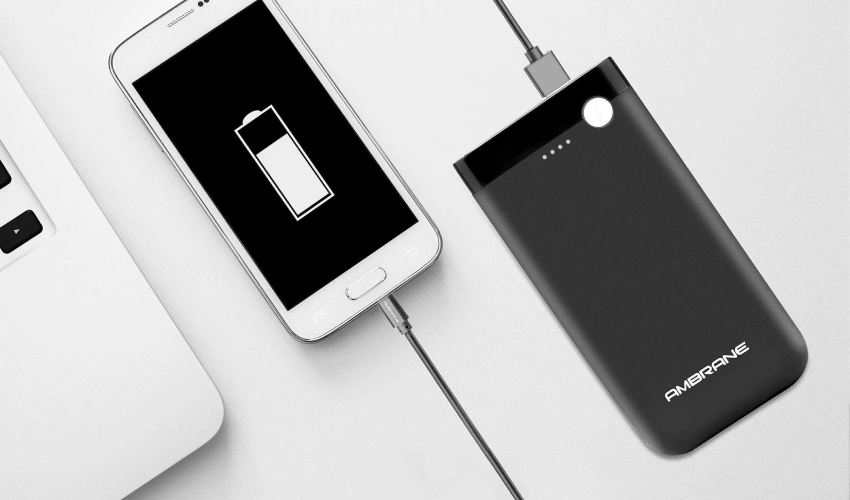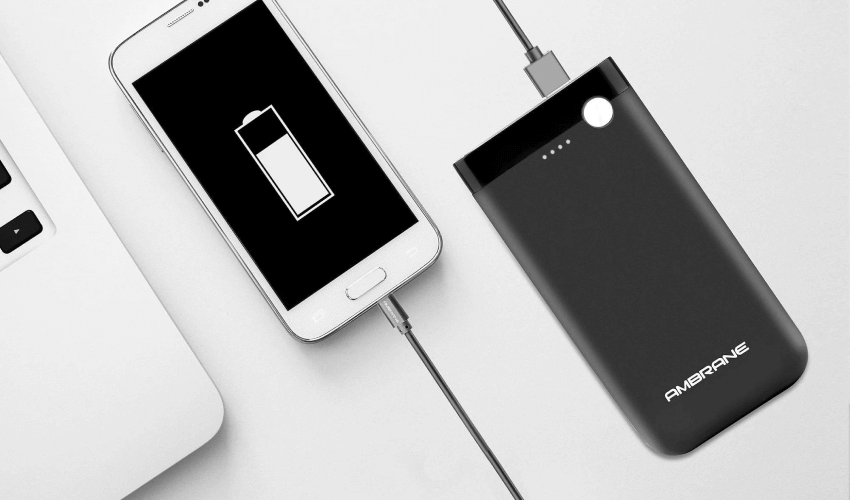 Price: ₹ 999
Features
USB: Ambrane 15000mAh Li-Polymer Powerbank with Type C and USB Ports is the perfect device for staying connected.
Ports: Featuring a hefty capacity of 15,000 mAh and dual output ports – type C port and Micro USB port that allow connection of multiple devices at once –it's your ultimate power solution while traveling or away from home.
Design: With its sleek design and small size combined with a high-efficiency rating (95%), meaning more battery charging cycles compared to similar products, this power bank can easily fit in most pockets giving users maximum convenience wherever they are.
Protection: Additionally, packed inside its robust body lies clever circuit protection technology designed to protect against short circuits and temperature control safeguards preventing any chances of overheating during usage.
Battery life: It makes it safe for use indoors or outdoors, even over extended periods, thanks also to superior lithium-polymer cells, which deliver consistent performance throughout every cycle, whereas being lightweight, so easy to recharge too!
Delivery: Get yours now with 100% secure payment options and free delivery across all major cities in India.
8. Spigen 10000 mAh Wireless Power Bank 20 W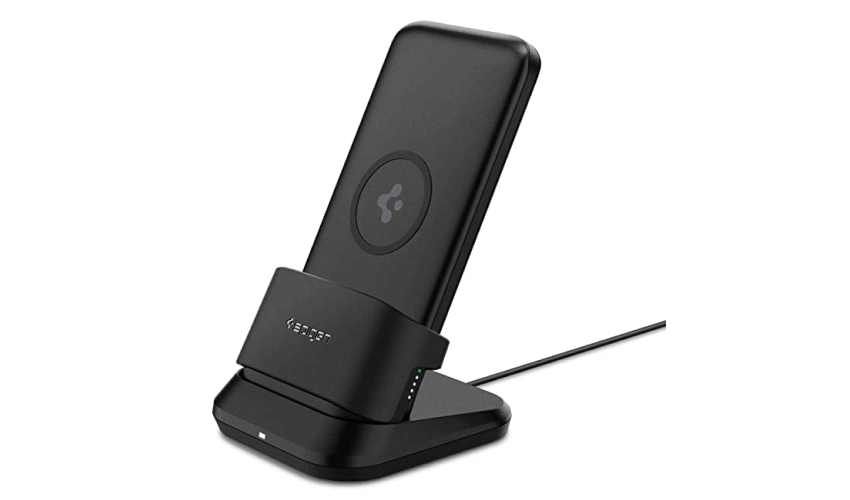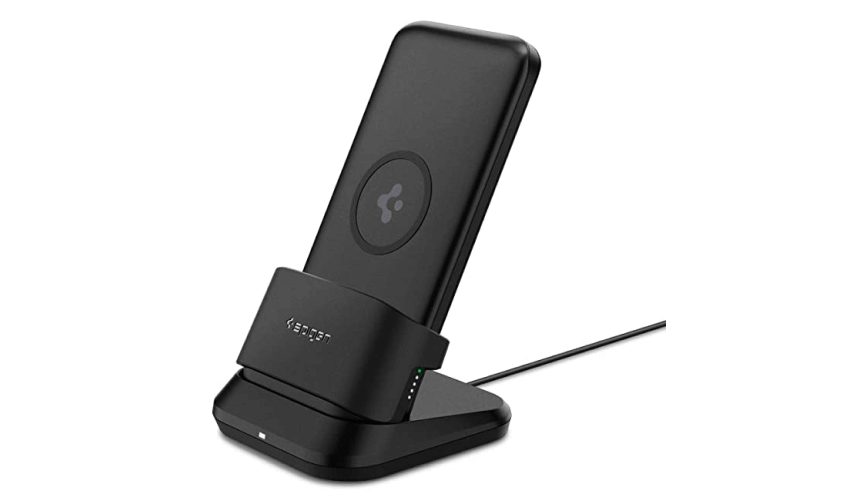 Price: ₹2,399
Features
Capacity: Spigen's 10000mAh Wireless Power Bank 20 W – is the perfect companion for your on-the-go charging needs.
Speed: Engineered with portability and convenience, this functional power bank eliminates all cable clutter while allowing simultaneous wireless charging of two devices at a maximum rate of up to 20W.
Design: Thanks to its slimmer design, it fits snugly into pockets or bags without adding bulk to your loads.
Battery: Made from durable materials designed for long-lasting charge cycles, this lightweight power bank packs enough juice (10000 mAH) to get multiple charges out of one complete battery cycle – ideal for work commutes or traveling adventures!
Output: The high work gives it a fast recharge time using any Qi-certified charger adapter plugs, so you'll never run out of energy again!
Protection: With integrated safety features like temperature control & overcharge protection, it will always ensure your device is safe under heavy load conditions to ensure optimal results every use.
9. Portronics Power Brick II 10000 mAh Power Bank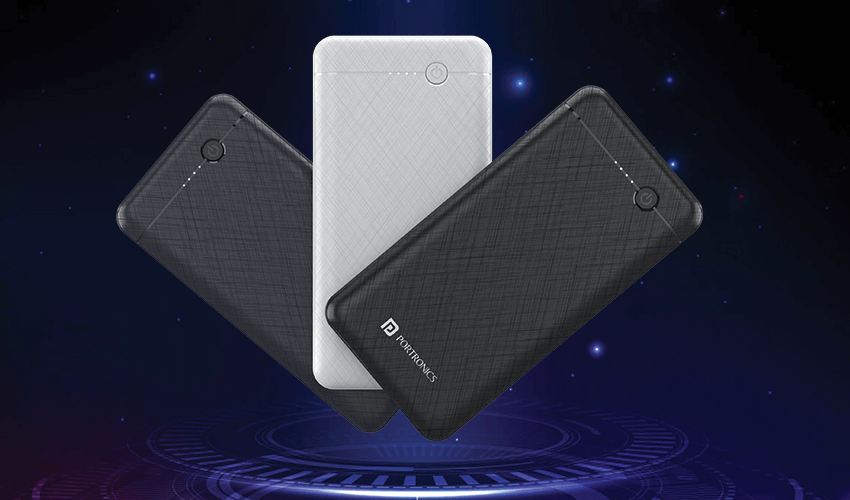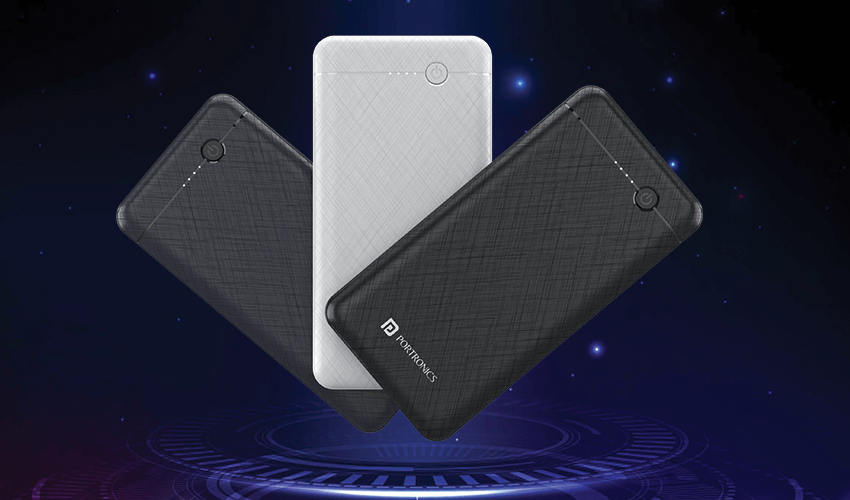 Price: ₹899.00
Features
Capacity: This Power Brick II 10000 mAh power bank from Portronics is an absolute must-have for the modern gadget user.
Design: A slim, lightweight design and 10,000mAh battery capacity will keep your gadgets fully charged while on the go!
USB: This device has two USB outputs that allow you to quickly charge multiple devices simultaneously – so no more worrying about finding space in your bag or pockets for separate charging cables.
Protection: Its intelligent chip protection prevents overcharging of connected devices, and its advanced heat dissipation system ensures efficient energy conversion without generating too much heat.
Price: The low price tag makes this charger even better – great value for money, considering all it can do! Perfectly portable yet powerful enough to ensure all-day extended usage of various electrical appliances, what's not to love?
10. URBN 10,000 mAh Ultra Compact 12W Power Bank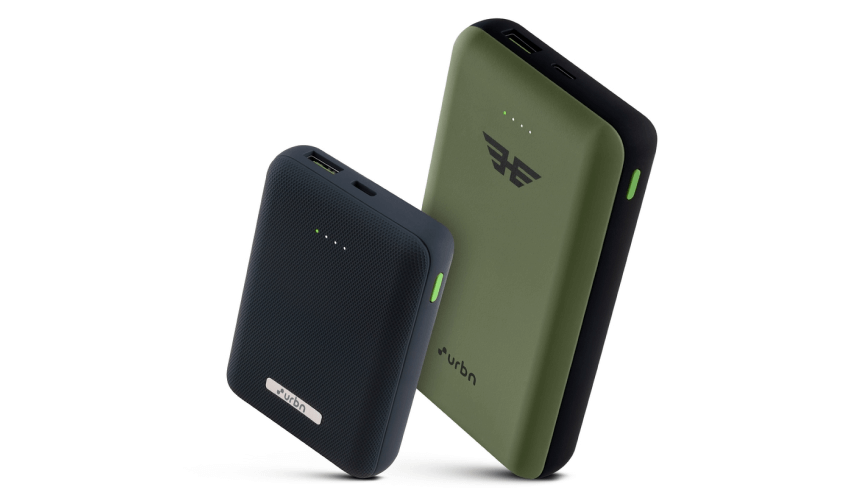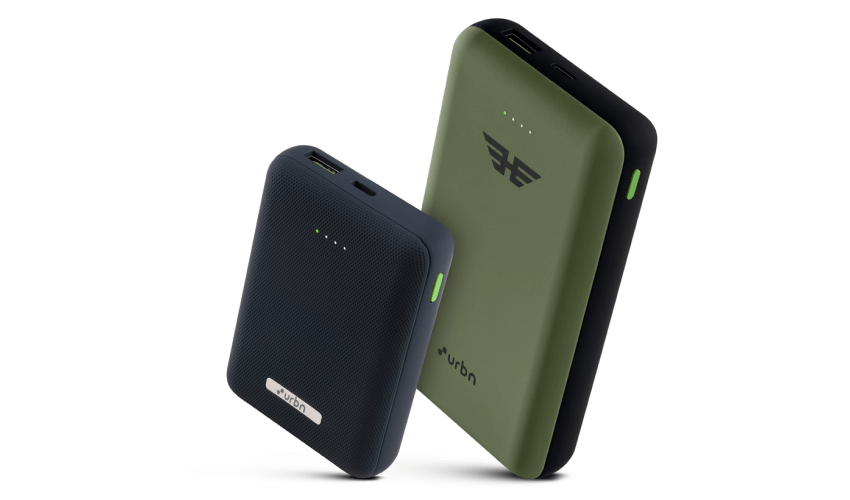 Price: ₹1049
Features
Capacity: Experience lightning-fast charging speeds thanks to our advanced Qualcomm Quick Charge 3.0 technology that provides dual ports simultaneously at 2A output each – perfect for on-the-go use or even sharing power between multiple devices!
Characteristics: The sleek aluminum alloy shell helps it maintain its lightweight design while protecting against everyday knocks and bumps – so you can rest easy knowing your device is always safe from damage when not in use.
Protection: It's equipped with all the latest safety features, including an intelligent voltage recognition chip, overvoltage protection, and temperature control functions for ultimate user security during time spent away from home or office outlets.
Pros: All these powerful features come together in one slim form factor, which allows it to fit into most pockets comfortably, making life easier whether you're simply commuting between work meetings or hiking through rough terrain–this pocket powerhouse will never let you down no matter where your journey takes you!
10. Samsung Battery Pack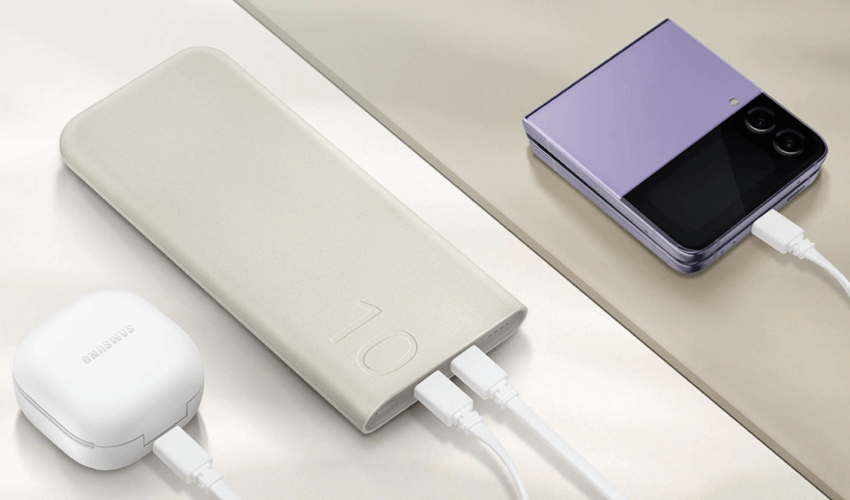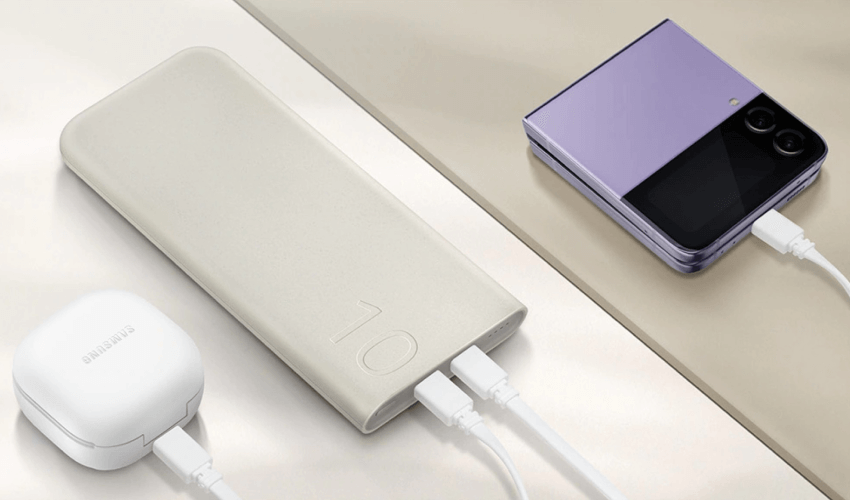 Price: ₹1500
Features
The Samsung Battery Pack P1100 is a high-performance power bank that packs a powerful punch.
Power: It's compact, lightweight, and has an impressive 10000 mAh with fast charging 15W USB output for quick recharging on the go – no more waiting around!
Protection: Featuring Safety Plus technology, its 8-layered protection system safeguards against over-charge, short circuits, or overheating, so you can be sure your device will always be safe and sound when using this battery pack.
Accessories: With two separate outputs, you have double the power, which makes it ideal for those who need multiple devices charged at once, such as smartphones, tablets, cameras, etc.
Compatibility: If portability wasn't enough already, what about compatibility? The Samsung Battery Pack works perfectly with Galaxy S series phones (S10/Note10) but don't worry, iPhone users – it still comes fully compatible with them too.
11. iMuto 20,000mAh power bank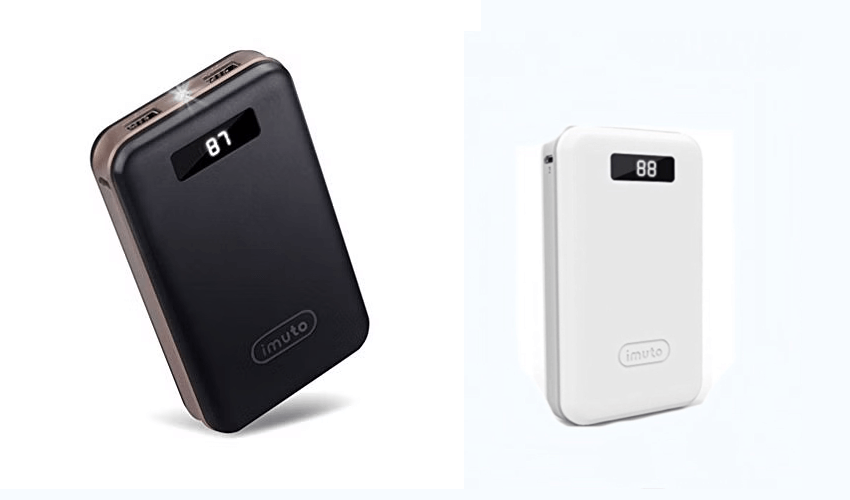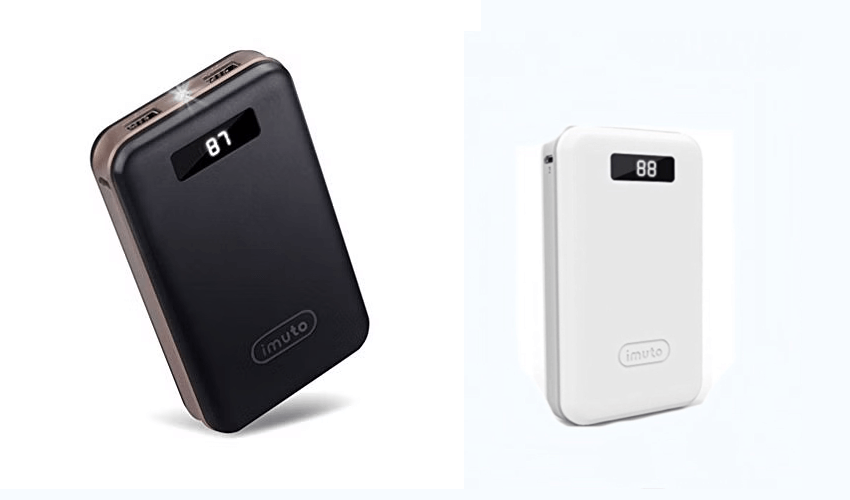 Price: ₹5859
Features
Design: This sleek, lightweight design features advanced safety features that keep your device safe from overcharging or short-circuiting. It comes with fast charge outputs, so you can easily plug in two phones and even tablets at the same time while they effectively charge up quickly.
Easy to use: The intelligent control chip automatically recognizes your devices when plugged in and delivers optimal charging speeds based on each device's characteristics – no manual adjustments necessary!
Compatibility: Plus, it offers pass-through capabilities that let you simultaneously use other electronics like headphones while recharging this power bank.
Handy: This handy charger is highly efficient and extremely convenient as it provides ultra-stable supply voltage during usage, ensuring everything runs smoothly every single time without any hiccups.
Display: The LED indicators built into the body help accurately monitor current levels to make efficient use of energy by helping reduce standby consumption loss, therefore providing more fantastic overall efficiency performance compared to traditional models currently available on the market today.
Batteries: Thanks to its premium Grade Li-Polymer batteries construction, rest assured knowing to handle will always remain calm regardless of how long or frequently used throughout everyday adventures anytime, anywhere!
CONCLUSION
A reliable and robust power bank is essential for the modern-day mobile user. With advancements in technology, users of smartphones are looking to stay connected with their devices even when away from a source of electricity – this stands true for business travelers or rugged adventurers who need access to long-lasting battery life no matter where they go.
You can trust the best power banks available today when choosing a portable charging solution that provides maximum power capacity without compromising safety and durability. It's essential to look into features such as an advanced temperature control feature that helps protect your device.
At the same time, it charges dual USB output ports so multiple devices can be charged simultaneously, has fast rechargeable speed (in minutes), and has universal compatibility across phones & tablets regardless of make/brand, among many other aspects worthy of consideration before making your purchase decision wisely. We hope this blog on the best power bank for mobile is useful to readers.