Instagram is a platform where people from all over the world connect with the help of appealing images and influential content. This platform is being used by influencers, marketers, and even ordinary people to share content.
Other than images, the most appealing feature of an Instagram post is the post description. This is the section that is utilized to convey a message or simply explain the context behind uploaded photos.
In this post, we are going to show you a trick that can make these descriptions even more appealing to your audience. This trick involves the usage of invisible text. Let's get into what it is.
What is Invisible Text?
The invisible text consists of a character that cannot be seen by the human eye but covers space like a normal text character. It is selectable and can be copied or pasted, but it cannot be seen.
You might wonder how such a hidden character can be of use. It might not seem this way, but this invisible text actually has a lot more applications than one might think. We are only going to discuss the applications this text has for Instagram posts, stories, or usernames.
What are the Uses of Invisible Text for Instagram?
Invisible text can be used in various ways to enhance Instagram content. We have created a short list of these use cases:
Customizable Formatting: Instagram descriptions can only be written in a specific format. You can not add spaces of any sort. Invisible text can be used to add these spaces and make Instagram post descriptions more organized and appealing.
Improved Accessibility: Invisible text can be used to facilitate visually impaired users. For example, if someone uses a text-to-voice application to read your content, invisible characters can be used to let them know where there are spaces.
Addition of Tags: Hashtags can significantly improve the visibility of a post. However, they can make a post look promotional. To avoid that, you can write a short description and use invisible characters to put some space between tags and the description. The tags will go to a deeper section that isn't immediately visible to users.
Other than these apparent applications, you can use your imagination to make other uses of these invisible characters. Now if you are interested in using such invisible text, an easy method is explained in the next section.
Also See: 10 Best Instagram Followers App in 2023
How to Generate Invisible Text for Instagram
Invisible Character is available abundantly online. In order to explain the working of these invisible text, we are going to show by using an invisible text generator.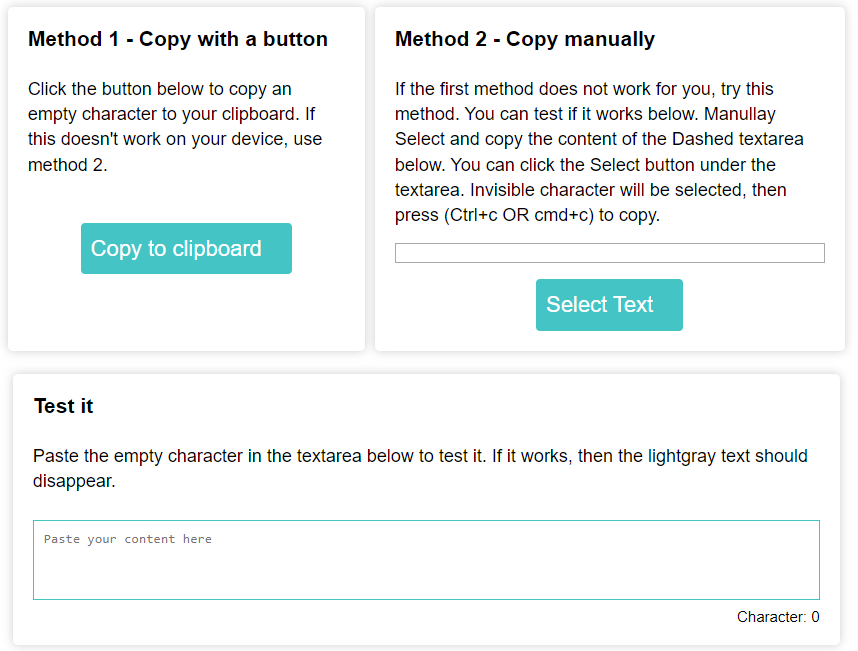 Method 1
The first method consists simply of a single click.
Get to the tool page, and look for the button that says Copy to Clipboard.
Click on this button.
Test if the invisible character has been copied to your clipboard by pasting it in the "Test It" section.
Method 2
The second method can be used if the first one doesn't work for you, as some devices might not be compatible with it.
Click on the button that says select text under a text bar.
This will select an invisible character.
Now, you can manually copy this text and use it anywhere you want.
On a computer, this copying can be done by clicking CTRL+C. On a mobile device, you just have to hold the selected text for a few moments, and an option to copy it will pop up.
In both methods, you copy the invisible text that can be pasted on an Instagram post description, reel caption, story, message, etc. These can then be used for reasons explained earlier in the article.
Also See: How to Convert Image to Text for Free in 2023?
Final Thoughts
The invisible text has various useful applications for optimizing Instagram content. This invisible text is also pretty easy to generate or copy, so there are no accessibility issues as well. You can follow the methods explained above to easily get a hold of this hidden text and use it in your Instagram content. It can make your posts much more persuasive and appealing.