Welcome to the world of smart home control app that add elegance to your smart homes or offices. This world is full of advancement and technological developments. Each day, there is new technology rolling out in the market. Everything from our personal life to our professional has been impacted greatly with latest technology. Today, technology influences our lives tremendously.
Is this a favourable change? Will you accept it? However, those who only consider technology a curse won't accept such adaptations. Still, in rare cases, even they can't deny embracing the latest gadgets and other devices. In the present scenario, technology occupies an indisputable position in contemporary society.
So, transforming ordinary living spaces or workstations into smarter ones makes you feel more convenient and comfortable. Isn't it so? Hence, opt for this smart home control apps that are exclusively for Android users with abundant benefits.
But in what ways these apps are worthwhile? Are you wondering the same? If yes, then you need to read this article until the end.
In this post, we will go through some of the best smart home control apps for you.
So, let's get started…
Table of Contents
What are Smart Home Control Apps?
A smart home app, also known as a home automation app or smart home automation app, is a software application. These applications allow users to remotely control and manage various non-computing devices in their homes. The act of controling devices is typically done using a smartphone or tablet.
These apps help home owners greatly. In people's hasty schedules, there is no extra time to concentrate on security features. Installing these applications allow them to keep their eyes on their homes from any part of the city.
Plus, switching on electric devices is easy and controllable far away from living areas. Such things enhance your peace of mind and make you feel happy.
How Effective Smart Home Automation Apps Are?
Smart Home Control Apps are very effective. Smart home technology not only help home owners save money by lowering their energy costs, but also help them make more money when it comes time to sell their home. According to the data, homes with Smart technology gadgets are valued at 50% more than similar properties without such devices.
Moreover, smart homes save people a lot of time. Of course, they don't need to worry about their light turned off or not as they can do it just with a tap on their mobiles.
All in all, home control apps are beneficial for home owners who want to save a lot of time and money. 
Also See: How To Fix Android App Not Installed Error
Are Smart Home Automation Apps Safe?
More often than not, Smart home control apps come equipped with security features. However, hacking is still a possibility for smart homes, just as it is for any other device that is connected to the internet. When an app on a connected device is activated, the device sends a notification to the app's related device, which in turn sends a digital fingerprint to the router. Hackers who monitor your router may obtain information about your daily schedule, access movies, photographs, or maps of your home, and even learn your passwords.
However, with right safety measures you can always prevent your home from any kind of cyber threat.
Hopefully, the information about smart home automation apps so far has been helping for you. Let's now take a glance at the best smart home control app that stays at the top for a while.
Here we go…
Top 12 Smart Home Apps For Android
1. Amazon Alexa
Let's start with the top-rated smart home control app, Amazon Alexa. Who doesn't know Alexa? Yes, the most popular term in this digital era is "Alexa plays music". No one needs a formal introduction to this voice-controlled virtual assistant. It is one of the most utilized smart home app for Android users.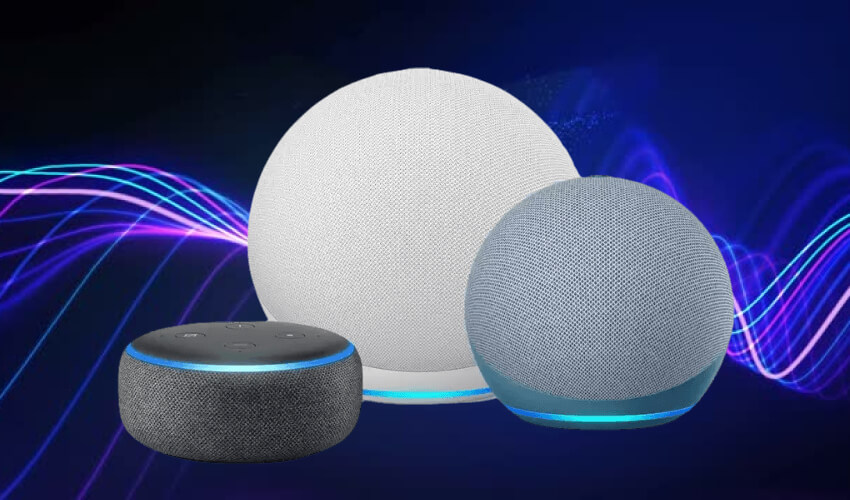 From answering questions to ensuring security, it does everything according to your commands. Install the smart home control app to initiate the set-up of an Amazon Echo Dot or Echo speaker in your living spaces.
Key Features of Amazon Alexa:
It allows you to get tailored news feeds
You can do almost everything with this app, including play music, podcasts, games, sleep music, and control a television or AV system
It lets you connect contacts through calls
It lets you set alarms and timers, and it is easy to create a new routine
Offers extended security to smart devices
Harness the power of Amazon Alexa's automation power and control smart home devices!
2. Google Smart Home
When it comes to the best smart home apps, Google Smart Home cannot be ignored. Google products have reserved a huge place in the digital realm for over a decade. Everything, including mobiles, browsers, Pixel watches, and smart home control app assists users in the custom-tailored path. In that list, Google Smart Home is an emerging Android application that has already crossed 500 million+ downloads.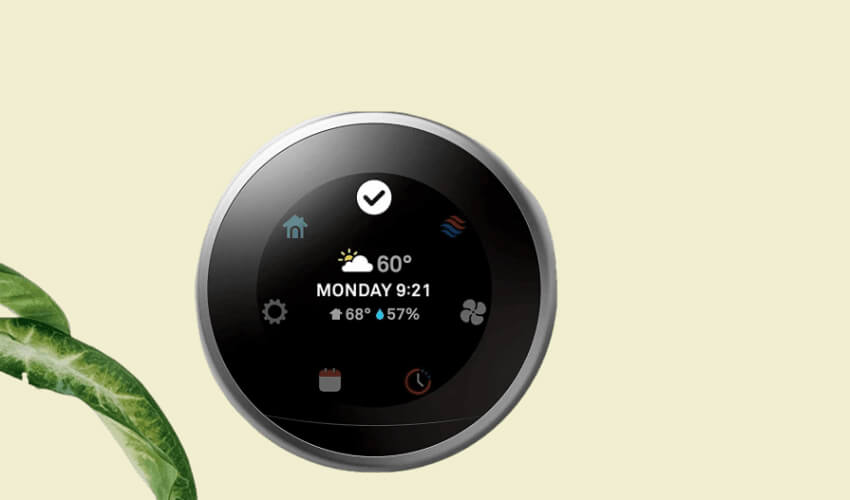 Setting up this smart home automation app is quite simple; just install the app to sync home-compatible Google devices. That's solved; it's ready to kick-start the new routine. But what can you do with it?
Key Features of Google Smart Home:
You can play videos, songs, radio, music, news, and listen to any media using this app.
It lets you access your televisions and speakers
It assists you in managing tasks and provides information about traffic, weather, calendar, and updates about flight
You can even make your monthly or daily to-do list according to your requirements with the help of this app
It lets you enhance knowledge by asking questions or expressing doubts
It lets you control security cameras, doorbells, and other smart home devices
Ask to play fun games or trivia
Seamless integration of smart home control app in your loving spaces offers you a smooth experience and enhanced security.
3. Ecobee
At number 3, we have Ecobee. Ecobee is a popular home automation company that effectively makes customized smart devices that are easy to integrate with smart home control app. The Ecobee application is widely available for every Android and Apple device.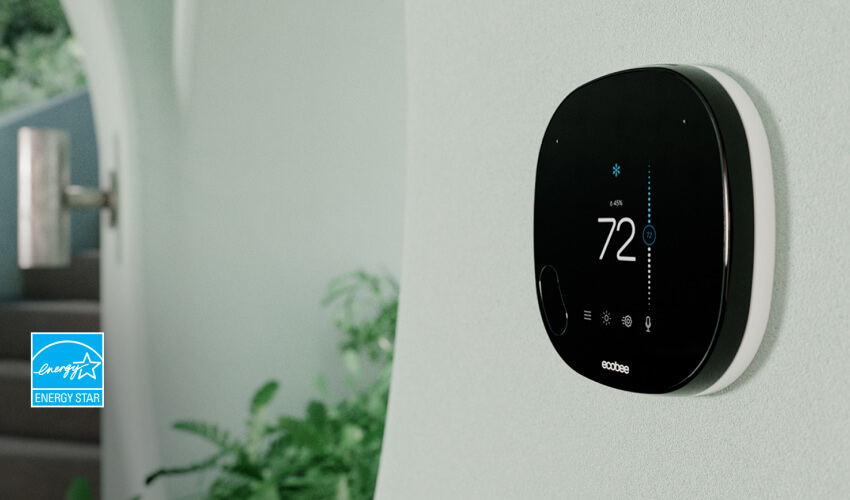 Image Source: Ecobee
On the other hand, connecting Ecobee smart devices with Alexa, Google Assistant, and Siri is easy and possible. This means you have the option to install the Ecobee smart home control app if you wish to. Or you can even utilize their smart thermostats, light switches, cameras, and contact sensors to integrate with other smart home applications.
Key Features of Ecobee:
You can access every Ecobee smart appliance from anywhere
It helps you save energy efficiently
It offers customized solutions
It offers easy user-interface
You can adjust the temperature on the thermostat remotely
Seamless integration with other smart home control app Opt for Ecobee to adjust the temperature of your living spaces or office to make you feel more comfortable and cool.
Also See: Best Smart Speakers for your Smart Home
4. Home Assistant
With its high-degree customization features, Home Assistant stands out among the other smart home control app. Yes, Home Assistant is the perfect option for Android users who are more concerned about their privacy and security. It is one of the most secure smart home apps you can consider opting for.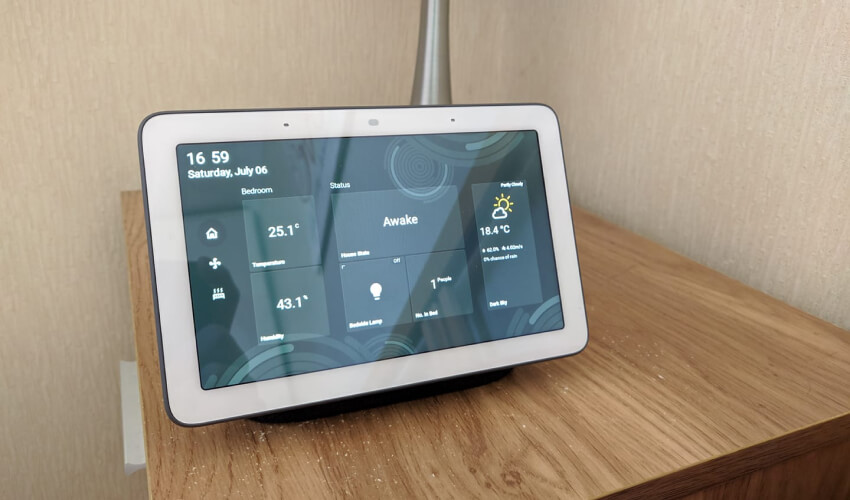 Image Source: Home Assistant
It is an automated hub that enables the local control of smart devices, provides enhanced security, and is more flexible. Unlike other smart home control apps, there is no need for a cloud server connection, which creates an urge to install it at home.
Key Features of Assistant:
It lets you control and get data from other smart applications
It offers voice control assistance
It offers wide device coverage
Installing on any existing hardware is a breeze
You can access the apt hardware lights with your voice
It lets you seamlessly integrate with several smart home gadgets and applications
It supports multi-room audio
This app offers enhanced home security and mainly focuses on privacy and local control
Getting technical expertise is preferable for installation, so take a glance and avail this smart home control app for your living spaces.
5. Wiser App
Next on our list is Wiser app. It is one of the best choices for users, who likes to transform their Smartphone into a controller. This smart home control app can set different temperatures and schedules in different rooms.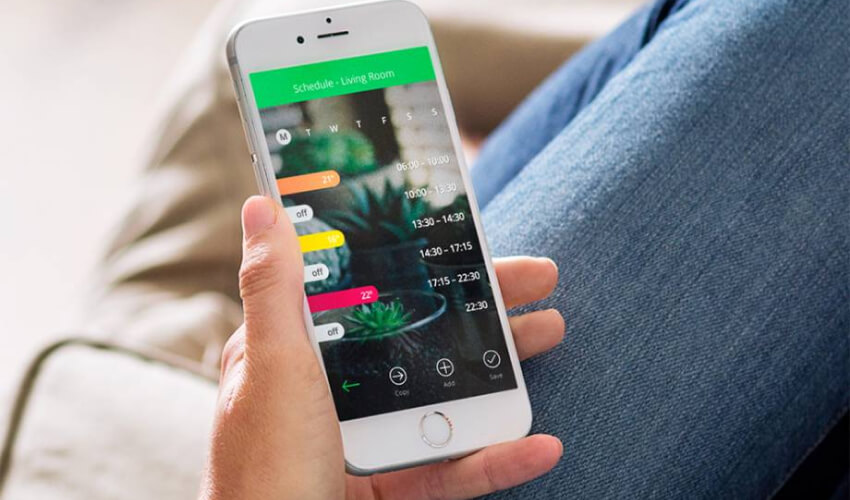 Image Source: Drayton Wiser
For instance, you can set different temperatures for halls, bedrooms, guestrooms, or any other living space. It offers you the next level of comfort and makes you feel happy. Plus, the Wiser smart home control app is the best choice to save more energy. So, if you are looking for a smart solution to cut down on your energy expenses, this is the one for you!
Key Features of Wiser App:
Wiser App offers customized schedules to set temperature
It helps you save more than 50% of energy
Follows proper schedules for every room
It offers insight features to track power savings
Better integration with other smart home devices
Without any second thought, Android users can opt for the Wiser smart home control app and enhance their lifestyle in this ever-evolving era.
6. Samsung SmartThings
Samsung plays a huge part in elevating the life standards of the people. From small home appliances to smart home control app, they offer everything to users.
Image Source: Samsung
SmartThings is a wonderful smart home application developed by Samsung. It enables you to conveniently control and manage your home appliances and other compatible electronic devices using your smartphone or tablet. You need to have compatible devices in order to use this app.
However, it works well with certified Alexa devices. It allows users to control various devices such as light bulbs, on/off switches, dimmer switches, thermostats, locks, and Scenes that have been configured with SmartThings. All in all, SmartThings is a great app that allows users to access and control their electronic devices from their smartphones or tabs.
Key Features of Samsung SmartThings:
It can control and keep track of smart devices
This app is easy to set up
Custom-tailored approach
Supports IoT Samsung devices
Compatible with certified Alexa devices
Automation and manual commands help to monitor the whole area from any location
It lets you discover and manage other-party Bluetooth
It offers quick access
Make use of the Samsung smart home control app to access your smart devices from the Galaxy Connect panels and upgrade your life smarter.
7. Google Assistant
This list without Google Assistant in it would be incomplete for sure. Google has made our lives way too easier. Yes, from browsers to smart home control app, Google offers everything to this world. In that way, it is virtual assistant software that navigates and controls the smart devices even if you're far away from home.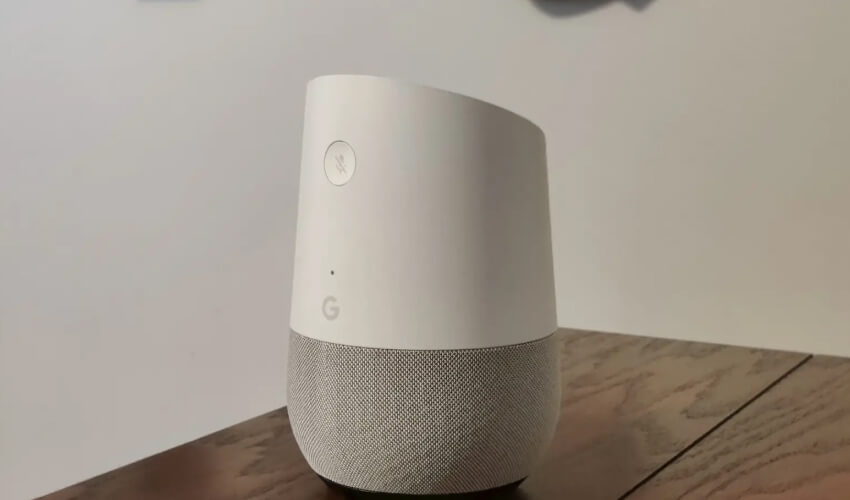 Image Source: Chrome Unboxed
You can use this exclusive and available smart home control app to turn your home smarter than before. Take a glance at the features to get a detailed view.
Key Features of Google Assistant:
You can get clarity on your doubts
You can ask any question just like Google Smart Home
It allows you to effectively schedule events and alarms
It lets you get information from the user's Google accounts, including Play Stores and others
It provides you with instant weather updates
You can play music using this app
You can set temperature through the thermostat
It is one of the best smart home control apps to access home functions like speakers, lights, and cameras
It is FREE to use app
Choose this free smart home control app for Android users and enhance your life standards.
8. Google Nest
Here comes another terrific smart home control app from Google. Yes, Google Nest or Home speakers and displays is yet another wonderful app that you can consider for your home.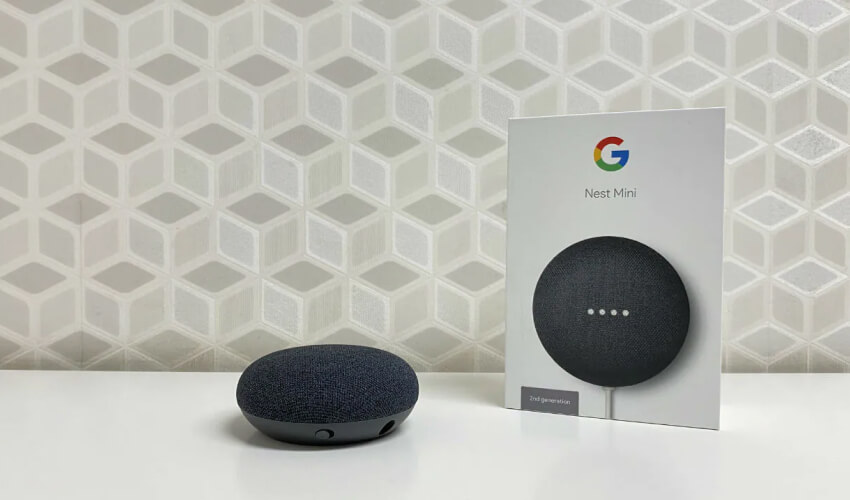 Image Source: Moneycontrol
But why should you choose Google Nest? Wondering?
Here is why….
Among Google's smart home applications, Nest is considered more user-friendly and easily accessible. It enhances users' convenience by enabling you to effortlessly access media, efficiently manage tasks, and effectively plan your day using just your voice. So installing it over the others makes a huge difference in your living spaces. Explore this smart home control app features to conclude.
Key Features of Google Nest:
Google Nest allows users to view cameras
Updates the security of the home with timely notifications
It sends you alerts for severe smoke in and around the house
It lets you have firm control of the thermostat
It allows you to check the temperature of your house
You can check and allow someone who is standing in front of the door after the user provides access
Video history available 24/7 for Nest Aware subscriptions
It is one of the safest and secure smart home control app on the list and you can install it for free. In addition, there are Nest Aware subscription packs also available, choose them when you want them.
Related Search: Best Smart HomeKit Devices and Accessories to Buy
9. Honeywell Home Application (Resideo – Smart Home)
First of all, don't get confused with these two names of smart home control app. It's because Honeywell is the identity of the manufacturers and Resideo – Smart Home is officially in the Google Play Store.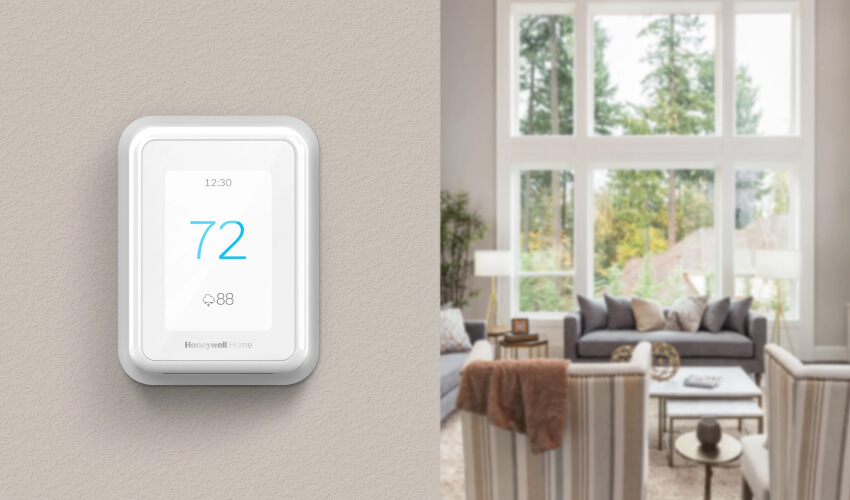 Image Source: Digital Trends
Anyhow, users can avail this smart home control app to simplify their lives and boost the look of smart living homes. Use the Honeywell home application to avail these benefits.
Key Features of Honeywell Home Application (Resideo – Smart Home):
It provides access to every Honeywell device in the house
It allows you to control devices like thermostats, doorbells, and humidifiers
You can get live updates through mobile notifications about the house activities using this app
With the help of the Honeywell app, you can even access the camera
If you want to enjoy such features in your home then, enable the Honeywell Home smart home control app in your living spaces. This app will make your life a easy and comfortable.
10. iHaus Smart Living Application
Next on our list is iHaus Smart Living Application. It is one of the best smart home control apps that stands out for its simple setup and convenient access. Plus, you can have only a few devices to get connected with this smart home application.
You must install this app if you're in search of smoke-detecting sensors and take automatic precautionary steps immediately. Yes, it is one of the highly notable and special features of the iHaus Smart Living smart home control app.
Key Features of iHaus Smart Living Application:
Easily turn on the application with the device icon
Unified control panels for smart lights, speakers, plugs, locks, and thermostats
It is an easy to use application for smart homes
Single virtual button to turn off everything
You can create customized routines with the help of this app
Setting this app up is easy and convenient
Get iHaus Smart Living, the best smart home control app, for better convenience and to make your halls and bedrooms more comfortable.
11. Philips Hue Application
At number 11, we have Philips Hue Application. Yes, the Dutch multinational conglomerate corporation also has smart home apps. It comes under the special mention of the smart home control app because this is an exclusive app that offers access to Philips brand products. However, most of the time, people prefer purchasing Phillips lights. This app lets you organize, control, and customize your Philips Hue smart lights and accessories. In that instance, it is suitable for the list of smart home control app. Let's be aware of what it does.
Key Features of Philips Hue Application:
It lets you control the bulb's brightness through a mobile application
It helps you save electricity expenses by setting timers for the bulbs
The tones and colors of the bulb can be changed
Well-integrated with other smart home devices like Alexa and others
Do you think the Philips Hue smart home control app is worth it? You might think it is not like other smart applications. But remember, it is a better option to reduce electricity bills and rock party evening by changing with its color changing feature.
12. Alarm.com
Last, but not least, Alarm.com. As the name says, Alarm.com is well-famed for maintaining privacy and security. Alarm.com is one of the best smart home apps that you can consider opting for. It lets users update recent activity summary. Also, it allows you to have multiple system access and multi-partiction support. Install this smart home control app and stay connected with your home or business areas. Take a glance at its features to make a decision.
Key Features of Alarm.com:
This app sends wireless signals
Updates recent activity summary and can search up to the past 2 months' history
Multiple system access and multi-partition support
Can get customized notifications
Energy management and automation devices including lights, locks, irrigation control, and thermostats
Captures images, and users can monitor through videos and clip playbacks
Embrace the smart home control app, Alarm.com to utilize the exclusive features that make your smart homes a happy place to live.
The Bottom Line
So, that's all for now. Hopefully, this article has been informative for you and has helped you have useful insight into the best smart home control apps.
Now that you know how these smart home apps may make your life easier while you're away, there's no reason to put it off any longer.
Just imagine you get a warm welcome in the cool rooms after returning from the office. How it will be? For sure, it would be great. On the other hand, even if you plan to world tour with your family, everything in your living space is under your control.
Indeed, these scenarios will happen in your life when you use smart devices and smart home control apps. So, what are you waiting for? Turn your homes or business place smarter to ensure security and privacy using smart home apps!