Artificial Intelligence, popularly known as AI, is in the mainstream today. It is one of the technologies that now has taken the whole industry, including AI Is Transforming the eCommerce, to the next new level.
The trend in the market has undergone a dramatic shift. People today prefer to make all their purchases online, especially after the COVID-19 pandemic. From their grocery to their clothing, they rely on eCommerce platforms. And that's when AI comes in handy. It assists marketers in increasing their performance in eCommerce marketing.
Studies show that over 2.64 billion people regularly shop online. This constitutes 33.3% of the total population all across the world. And this number is only expected to grow as eCommerce becomes increasingly popular.
Because of this increasing demand for products sold online, businesses are forced to become more inventive in the ways in which they communicate with online audiences. Of course, there is cut-throat competition. Many businesses are now operating online.
Companies have been forced to pull out all the stops in order to win over online audiences. They need to come up with new ideas. They need to use techniques such as dynamic email messages, voice search, and visual search to win their online audience.
And Artificial Intelligence is one such technology that helps marketers to stay ahead in the game. The power of artificial intelligence and automation enables them to create many of these tools. AI has progressed to the point where it can now assist marketers in increasing their performance in eCommerce marketing.
Also, it has made it possible for marketers to approach customers with a level of personalization. They now create bespoke messages that have never been seen before. The application of AI has resulted in numerous changes to e-commerce, particularly over the course of the past ten years.
So, let's now see how AI is transforming the eCommerce industry in 2023.
Let's get started….
Table of Contents
Impact Of AI On The E-commerce Industry
Here are the top 10 ways AI is transforming the eCommerce industry. Take a look…
1. The use of AI helps enhance customer service
A famous example of how artificial intelligence is transforming eCommerce is the enhanced customer support service. AI is used to create chatbots, and chatGPT is one of them.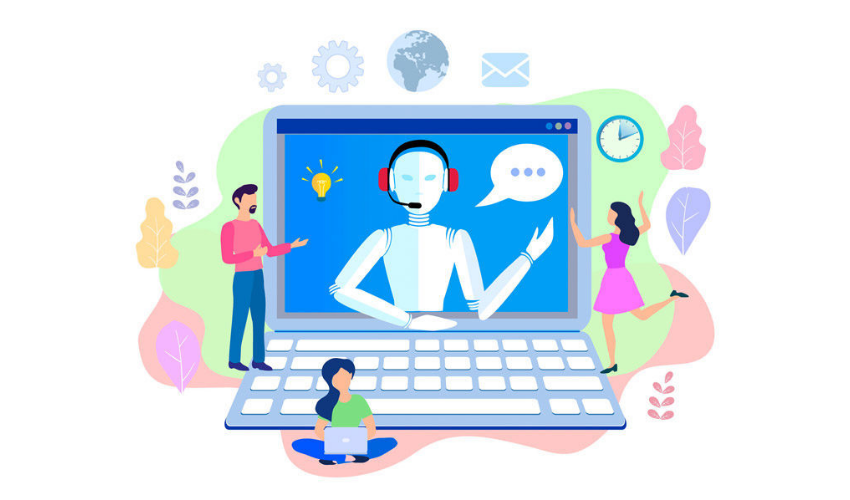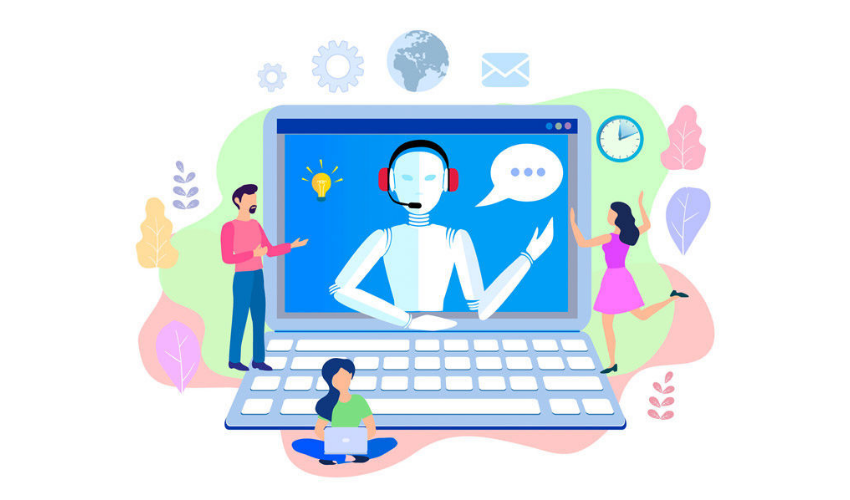 Chatbots have made it feasible for businesses to provide support to clients around the clock. The best thing about using AI-powered chatbots is that they cost significantly lower than that employing human customer service personnel.
Chatbots are able to provide a level of service that is simply not possible for humans to match because they never tire or need a break. Chatbots make it possible for humans to connect with digital systems in a natural way that mimics human conversation.
To better simulate human conversation, AI developers have begun including audio and text. Companies use these technologies in their websites, social media profiles, and SMS marketing initiatives. While bots and virtual assistants' responses are automatic in nature, they may easily be customized to match the needs of specific customers.
It's not just that; chatbots are able to do more than just offer assistance. They have targeting criteria and can intelligently route client requests, which makes them efficient at managing resources, boosting productivity, and reducing expenses. Chatbots also provide a more personalized experience for customers, which helps companies with increased ROI.
Relate Search: Meta Builds A-Team Focused On AI Products
2. The use of AI helps eCommerce platforms to reduce the number of abandoned carts
An abandoned cart is one of the major issues with eCommerce platforms. Research indicates that approximately 69.82% of shoppers abandon their carts. In other words, 7 out of 10 customers who add an item to their shopping cart don't complete the transaction.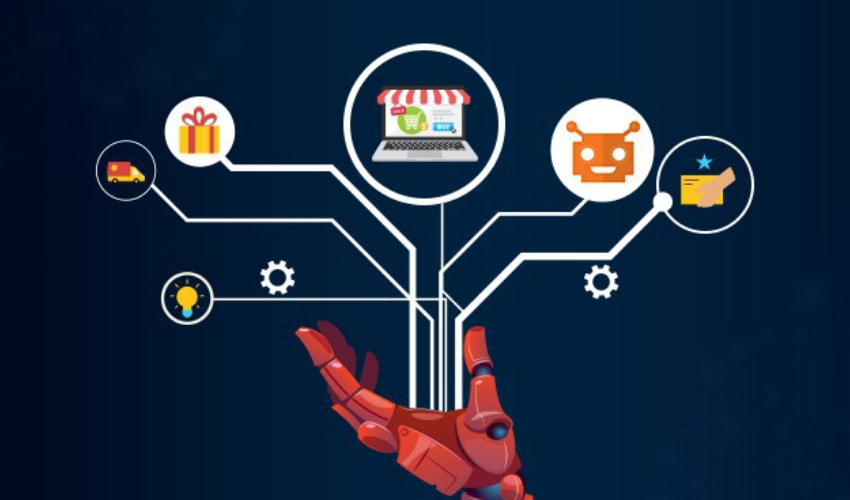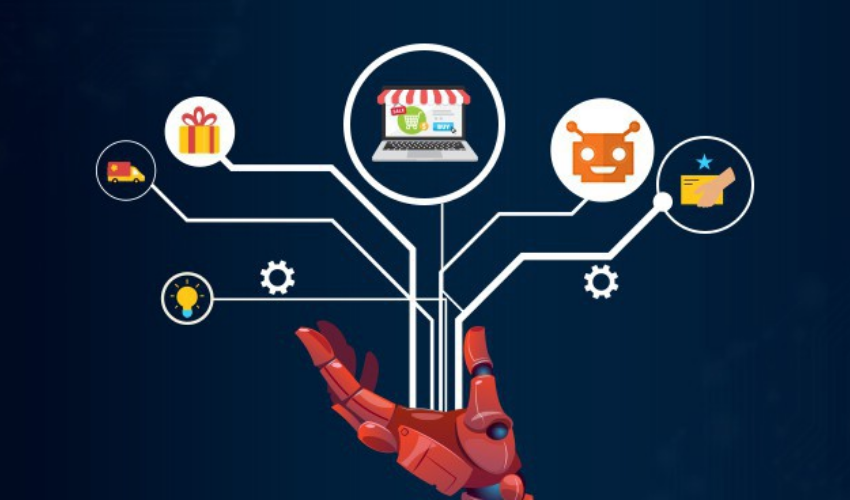 There is probably a clear connection between this figure and the automation of email marketing. Quitting a shopping cart is a sign that a customer had a bad experience or technical issue before buying. They were just a few clicks away from making the transaction.
Marketers may now utilize AI to follow up with potential customers in order to capitalize on their initial interest.
A triggered email that contains a survey is an amazing method to bring consumers back and is also an ideal way to collect information that can help you further reduce cart abandonment. Automation is an excellent approach to bringing customers back.
There are many different considerations that go into a customer's decision to abort a purchase. Once eCommerce marketers have an understanding of the reasons why their consumers are not completing a deal, they can find the appropriate solution to the problem and make the process of purchasing significantly more streamlined and clear.
Marketers can even utilize AI tools to target clients depending on the customers' online behavior. Aside from that, they get to know the level of interest the customers have shown in products. These solutions use machine learning to help marketers determine which leads will convert and which will abandon their carts.
Marketers can use these tools to determine the most effective content to distribute to their target consumers based on the information at hand.
3. The use of AI can help improve inventory management
Inventory management is one of the most important aspects of an eCommerce industry. And AI has made it possible for online retailers to produce more accurate forecasts of customer demand. AI helps them accumulate data about previous transactions, as well as information about past patterns and trends on social media.
This helps eCommerce marketers maintain appropriate stock, especially during heavy shopping seasons, such as Diwali, Christmas, etc. Having data in hand helps businesses tremendously. Using AI eCommerce, marketers can estimate stock levels in advance and save money by eliminating any unnecessary procurement.
In addition, it leads to enhanced customer satisfaction as your customers will get what they want without having to wait.
AI helps eCommerce marketers maintain appropriate stock, save time, and increase sales while improving the overall quality of the customer experience. They can always have the appropriate inventory on hand with the assistance of AI.
It is beneficial to both the firm and its customers as it reduces the cost of inventory and makes it simpler for customers to find what they are looking for in the store.
4. The use of AI makes searches easy for customers
We are living in an era of technology. Customers today seek methods that are easy and less time-consuming, such as voice searches. Voice search is at the forefront of the e-commerce industry.
Research indicates that 71% of users would rather perform voice searches as opposed to typing in search terms. Alexa, Echo, Siri, etc., are an example of voice search devices.
Customers now have the ability to search for things using only their voices because of these devices. As a result, more and more businesses are now getting their websites optimized for voice searches. Many businesses have even employed machine learning to enable their clients to shop on their websites using Amazon's Alexa virtual assistant.
Voice search makes the purchasing experience more convenient for them. They enable customers to look for products without requiring them to use a laptop or mobile phone. It helps customers save a lot of time that they can use in their core activities.
5. The use of AI can help provide a personalized experience.
A personalized experience is what can make a huge difference. Today's customers want to feel special. Any online business that makes its customers feel special by giving them a personalized experience is always at the forefront. For example, Yelp. The Yelp app now has various options for consumers to choose from when describing their ideal restaurant or service provider.
Personalization is one of the most significant ways that artificial intelligence is having an impact on the eCommerce industry. That's the reason more and more online retailers use AI to personalize the shopping experiences of their consumers. Marketers compile data on their customers' purchasing histories and make use of this information to provide personalized experiences.
Another example is Amazon. The eCommerce platform has an unparalleled advantage in behavioral targeting, predictive modeling, and contextually relevant marketing due to the vast quantities of data at its disposal. The brand has access to customers' full names, purchase history, search queries, average search time, category browsing habits, purchase time, average spend amount, and more. And the brand uses this information to better understand customer preferences, assist product discovery, and market on an ongoing basis.
In all, AI is making it easier for businesses to supply customers with exactly what they want and advertise the services that are suited to them. AI can do things like propose products that customers are likely to be interested in and present customized prices and offers.
Marketers can now develop advertisements that are targeted at specific buyers based on the actions that those buyers take while using the internet, rather than needing to produce ads that are generic in nature.
It is much simpler to collect buyer data with the assistance of marketing automation and AI solutions. Using the obtained data, they can develop dynamic advertising to distribute relevant adverts and content on platforms where ideal purchasers are likely to view it.
The use of AI tools has even led to the development of more successful retargeting tactics. Moreover, Facebook and other social media platforms have made it easier for companies to place retargeted ads on websites.
Also See: How to Create, Set up, and Use an iCloud Email Address
6. The use of AI may help to achieve better search results
Customers are turning to search engines and online marketplaces in increasing numbers to locate the things they need.
Increasing organic traffic is one of the most essential goals for every online retailer. Research indicates that organic search drives almost fifty percent of all website traffic and forty percent of online revenue.
The most intriguing aspect is that marketers can generate organic traffic at a cheaper cost than paid search with the help of eCommerce SEO. As a result, search engine optimization is absolutely necessary for the success of an online store.
ECommerce SEO helps marketers carry out a study of the site's performance, optimize content, recommend relevant tags, and assist marketers in determining the most productive times to produce content.
When we talk about eCommerce SEO, it includes the use of relevant keywords, Meta descriptions, and tags. All these make locating an eCommerce website easier and attract the right audience.
AI solutions can assist marketers in attracting a greater number of visitors to their websites and in arranging their items/goods in a manner that encourages customers to navigate your online store with ease. Also, they help choose the appropriate keywords, produce the most effective content, and enhance eCommerce SEO.
7. The use of AI can help create various types of content
One of the uses of AI-powered chatbots is to create higher-quality content. The eCommerce industry is undergoing significant transformations due to these advancements. Every eCommerce business, be it an online furniture store or a clothing platform, is aware of the importance of high-quality SEO-optimized content.
Believe it or not, using the right content, be it a product description or product image, can make or break a transaction. Nevertheless, producing high-quality content may be an expensive and time-consuming endeavor. This is when artificial intelligence comes in handy.
AI-powered solutions make it possible for businesses to produce content of higher quality more rapidly and at a lower cost. Marketers can create eye-catching and one-of-a-kind content or product images for their websites using AI. Doing so can help businesses attract more customers and have increased revenues.
8. The use of AI can help improve customer retention rates
Customer retention is one of the most important aspects of any business. No business can survive for a long time if it fails to retain its customers. And when we talk about customer retention, excellent customer service is what can make or break the game.
Repeat customers are extremely valuable for any business. A whopping 41% of an online store's income comes from repeat buyers. In addition, the average order value for this demographic of purchasers is 67% higher.
The ability to keep existing customers is critical to a business's long-term profitability. And the marketing automation and artificial intelligence capabilities available today make it much simpler to do.
Using AI-powered solutions, eCommerce stores can send automated promotional messages, product recommendations, and content that is pertinent to exist clients.
9. The use of AI can help improve Marketing and Sales of the eCommerce store
Data is the lifeline of any business. Without data, no business can survive. AI-powered solutions can help sales and marketing teams make better choices using the data obtained.
AI-powered tools can process huge amounts of data revealing useful insights which marketers can use to improve their sales by targeting the right people and fine-tuning their processes.
Now businesses need not process data manually. Using AI tools, businesses can change and automate processes like lead generation by leveraging geo-location and developing personalized campaigns.
These tools can monitor daily traffic, locate new and returning consumers, pinpoint their location, and unleash targeted ads based on their browsing habits. Therefore, freeing marketers so that they may focus their time and energy on their core activities, such as making business strategies.
10. The use of AI can help businesses detect online fraud in a timely manner
Cybercriminals are always trying to exploit security vulnerabilities in order to steal money, and personal information, such as passwords, bank details, etc. In such a situation, AI plays a crucial role. It helps businesses detect online fraud in a timely manner.
Of course, customers only shop from a website that is safe and secure. Using AI tools, eCommerce stores can detect fraudulent activities with a degree of precision that is almost uncanny by analyzing data points such as IP addresses, email addresses, and credit card information, for example.
To sum up, AI helps businesses avoid financial losses and gains customers' trust by ensuring their privacy.
Putting it all together…
So, these are the top 10 ways AI is transforming the eCommerce industry in 2023. It is quite difficult to imagine eCommerce without artificial intelligence, machine learning, or automation in this era.
This new era of powerful AI technologies not only has the capability of gaining more advanced information on clients, but it also has the ability to design algorithms that make it easier to reach target audiences.
Having AI tools integrated into your eCommerce marketing plan is a MUST. It will benefit both you and your customers. You can't possibly be present in every online location that your clients frequent.
However, an AI advertising solution can help you distribute your adverts across many websites and social media channels. This way, you can reach your target audience where they spend the most time online.
In conclusion, an artificial intelligence (AI) driven tool can greatly aid an online store's expansion and help it differentiate itself from the competition.