The majority of people are aware of the popularity of certain operating systems, such as Android and iOS. Even if those are, without a doubt, the most well-known operating systems in the field of smart connected technology, it's important to note that they are not the only ones.
Aside from Android and iOS, there are other operating systems as well, such as Tizen. You might be unaware of it, but it's getting a lot of attention recently, especially when it comes to picking out the most reliable TV OS.
Yes, TV operating system. Presumably, you know that these days we have access to smart TVs. So these smart TVs are powered by operating systems, just like our smartphones.
The market is swamped with either Android TVs or Tizen TVs. The picture quality of Samsung televisions is frequently regarded as being even more admired than that of Sony's Bravia Android TVs. Samsung does not produce any televisions that Android powers. Instead, they are all powered by Tizen's in-house developed TV operating system.
So, if you're planning to buy a smart TV, you must be aware of the operating system as well. Usually, when consumers buy a new television, they only evaluate the picture quality of the options available to them.
But that's not how it should be.
So, let's see which is better: Android TV or Tizen TV.
In this article, we will briefly discuss both operating systems, their features, applications, gaming, and updates to help you have a better understanding of the two.
So, let's get started…
Table of Contents
What is "Tizen OS?"
Tizen is an operating system for smart TVs that is unparalleled and can be obtained in every region in the world. It was created by Samsung and Intel working together. Tizen OS is an operating system that is based on Linux and is compatible with smartphones, tablets, and personal computers in addition to Samsung smart TVs.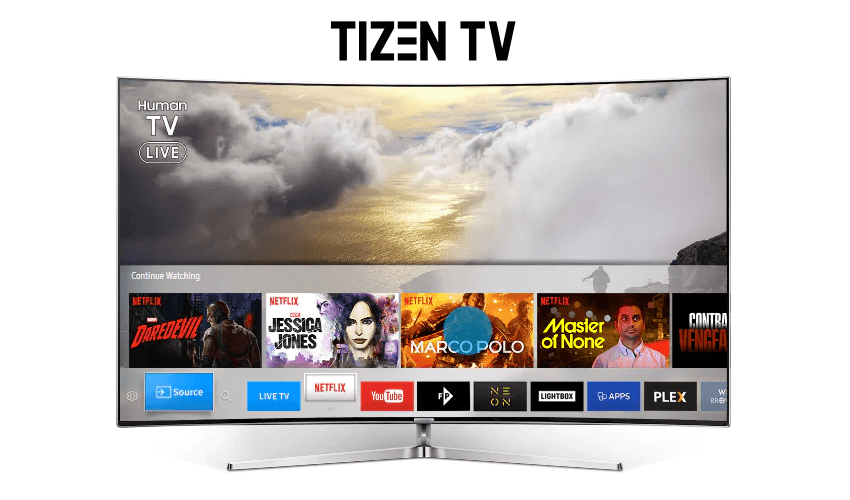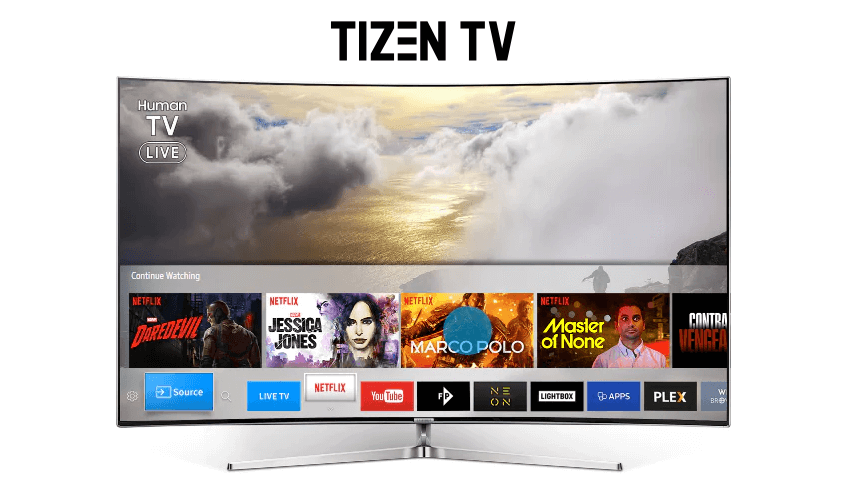 Tizen is a well-known brand among people who are into technology. It is the same operating system upon which Samsung previously constructed its wearable devices. The Tizen operating system has been around for some time and is found not only in watches but also in various fitness trackers, etc.
Tizen functions at a significantly higher speed as compared to other operating systems. It is equipped with a 64-bit processor and offers the highest possible visual quality to the users that watch it. Because of this, Tizen has become the most widely used operating system for Smart TVs currently available.
It is an open-source program that programmers can use and create use cases for it.
And because it is founded on the Linux framework, as was noted, its operating systems are quite versatile. This allows them to be utilized on a wide variety of device screens, including TVs, in-car entertainment systems, and wearables or smartwatches.
What exactly is "Android TV OS?"
Android is a mobile operating system built primarily for touchscreen mobile devices such as smartphones and tablets. It is based on a modified Linux kernel version and other open-source applications.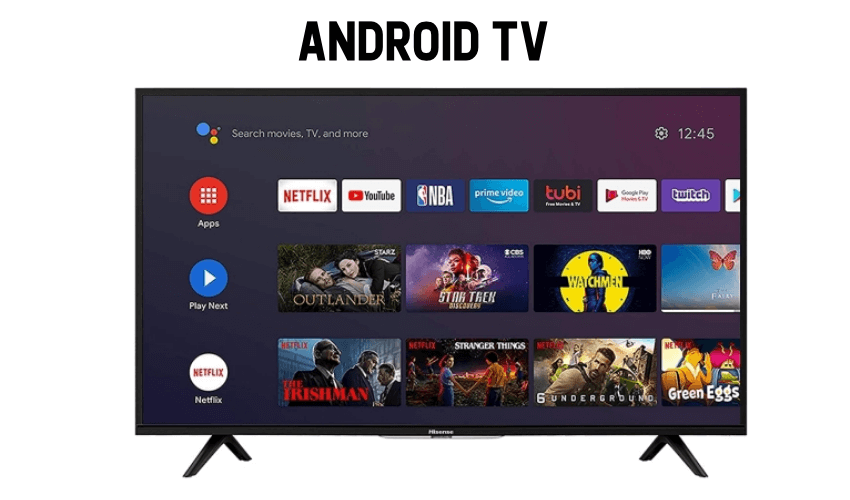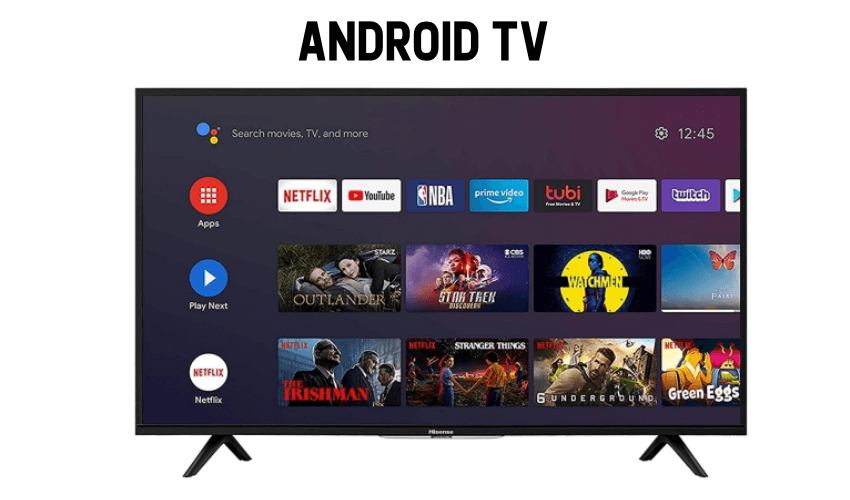 The term "Android TV" refers to any smart television that is powered by an operating system that is supported by Android and was developed by Google.
Over the past few years since its debut, it has received widespread adoption in Google-based products. It's not surprising that many different brands of smart TVs and Android TV boxes use the same software. The Google Play Store is pre-installed on Android TV, and users are able to utilize this feature to download any number of programs from the store. Additionally, it comes with well-known applications such as Hulu, YouTube, Disney+, Paramount, and HBO Max.
Users can enjoy the improved version of all accessible Android phones, including gaming, voice search, online and offline searches, streaming apps, such as Amazon Prime, Netflix, and so on.
Android televisions make it possible to access it on a larger screen.
There are apps designed specifically for Android TV that can be downloaded directly from the Google Play store. Additionally, customers can sideload native Android applications onto their TV.
Let's now take a look at the differences between Android OS vs. Tizen OS…
Differences Between Tizen TV Vs. Android TV
Here are some of the differences between both the OS to help you make an informed choice. Take a look…
➢ Technical Architecture
Tizen TVs are lighter than Android TVs and that's the reason why Tizen TVs start up a great deal more quickly than Android does.
Tizen is ahead of Android TV in that it has a 64-bit processor, which none of the Android TVs currently available do. When compared to Android, Tizen has a lower starting time due to its lower starting weight.
Moreover, the visual quality of a Tizen device with a more powerful processor is significantly enhanced to that of an Android device.
➢ User-Interface
When it comes to layout, Android and Tizen are pretty comparable to one another. The primary distinction lies in the fact that Android provides a search bar that is centered on Google, but Tizen OS provides a search and status bar that is much better thought out.
When compared to Tizen OS, users report that it is simpler to browse recently used apps on Android TV. Tizen does not have the straightforward expansion of notifications that is available on Android features.
In contrast to Tizen, the Android operating system does not offer a fluid scrolling experience.
Tizen enables the user to customize the colors that are highlighted, but Android does not provide this functionality.
In general, both offer superior user interfaces on multiple fronts, albeit to varying degrees.
Tizen's status bar is more organized than Android's, which is one of the most noticeable differences between the two operating systems. Android's search bar is centered on Google, which helps improve findability.
In addition, users have the ability to browse through recently used applications, yet, a minority of users believe that Tizen is not as user-friendly as Android.
➢ Voice Assistant
When it comes to voice assistant, Android outperforms Tizen by a significant margin in this area due to the former's greater voice recognition and the latter's substantial operating system integration.
➢ Gaming Experience
The best thing about Smart TVs, whether it's Android TV or Tizen TV, is that game lovers can have an enhanced gaming experience.
However, if you're a hardcore online game lover, then surely the Tizen OS is not the platform for you. It is because the app store for Tizen has only a limited number of games in different genres. On the other hand, Android offers game lovers a wide range of gaming options. Due to the fact that it has built-in gaming functionality, users are able to effortlessly install all of the games that the Google Play store supports. In addition, it features games that are optimized for mobile devices and has improved graphics for easier readability.
➢ Apps & Streaming Services
Lastly, when it comes to apps and streaming services, both Android TV and Tizen TV are great in their own way. Android TVs come equipped with the Google Play Store, from which users may access and instal a wide variety of apps. YouTube, Disney+, Paramount, and HBO Max, among other popular services, come pre-installed with Android TVs. In addition, it is home to thousands of apps that are specifically designed for use on televisions.
Despite its smaller app selection compared to other platforms, Tizen supports all of the main over-the-top (OTT) streaming services.
➢ Graspability
Tizen's operating system is deceptively simple despite its advanced features, allowing for a quick response when recognizing devices and setting them up for TV use.
Tizen TVs come with a tutorial so that customers can learn how to connect easily accessible devices such as gaming consoles, pen drives, connections to external storage, receivers, audio systems, and so on.
Simply scrolling up and down the on-screen menu bars is all that is required.
Android allows customers to have a more feature-rich experience while also providing the flexibility of connecting other devices.
Which is better: Android TV or Tizen TV?
Well, both smart TVs come equipped with amazing features. Not a single one of them lacks any essential component that could spoil the viewing experience for them.
They are direct competitors in terms of the user interface. Tizen wins when it comes to technical architecture. In contrast, Android performs far better in terms of gaming, app support, and voice assistant.
Tizen OS and Android TV OS each have their own unique qualities, but Android TV OS appears to have more resources at its disposal.
This is especially the case if you're interested in access to a wider variety of apps. Moreover, Android TVs provide you with more options, but it's up to the individual to figure out how to make the most of them. Android TVs are a great option for traditional users looking for a straightforward UI and simpler navigation.
Taking everything into account, Tizen OS is not only highly recommended but also accessible to a sizable population.
However, it is entirely up to you to decide which one you will buy. Ultimately, your needs and how much you're willing to spend will determine which smart TV is best for you.
Related:
• WebOS vs TizenOS. Which One is More Acceptable for Smart TV
• OnePlus launched a New 55-Inch 4K Android TV; Price, Specifications