In recent years, Samsung has undeniably taken the lead in the realm of foldable devices, boasting the likes of the Galaxy Z Flip 4 and Galaxy Z Fold 4. Their presence in the market, particularly in the United States, has solidified foldable technology's mainstream appeal.
However, amidst this dynamic landscape, one question looms: Will Apple join the foldable smartphone revolution with its rendition, tentatively dubbed the "iPhone 15 Flip phone"?
While Apple is renowned for its secretive approach, tantalizing rumors persistently suggest that the tech giant might be delving into the world of foldable devices.
Though it remains speculation at this juncture, our journey through the latest news, whispers, and insights shall unveil the intriguing possibilities surrounding Apple's potential foray into the realm of the folding iPhone.
iPhone 15 Flip Release Date
Initial speculation pointed towards a potential iPhone 15 Flip or foldable iPhone in 2023.
However, recent developments suggest a delay in the anticipated release timeframe.
Many industry analysts have adjusted their predictions, pushing the launch of a foldable or flippable iPhone further into the future.
Renowned analyst Ming-Chi Kuo even suggests that 2025 is a more realistic timeline for such a product.
There's a growing belief that Apple's first foray into foldable technology may not bear the iconic "iPhone" branding, hinting at a potential shift in their product strategy.
This evolving landscape underscores the complexity and careful consideration Apple is devoting to developing its foldable device, potentially leading to a longer wait for eager consumers.
iPhone 15 Flip Price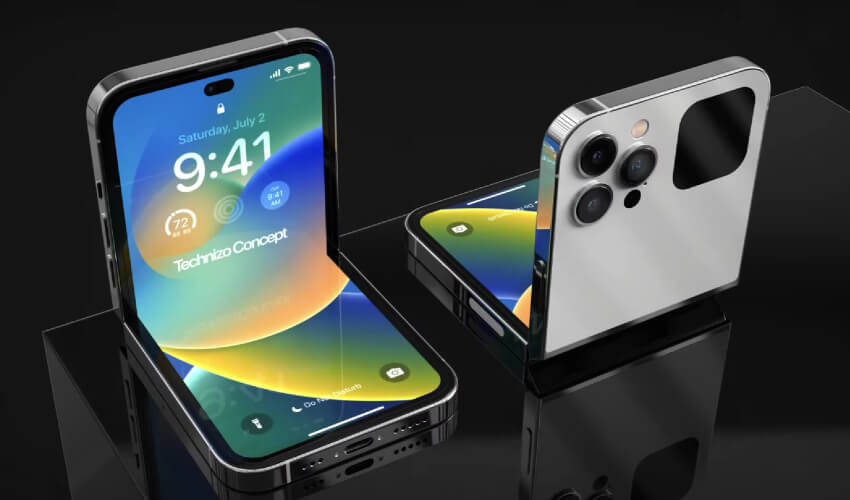 Source: Notebookchec
Determining the price of the rumored iPhone 15 Flip phone presents a challenging puzzle due to the need for more information in the foldable iPhone rumor mill, which hints at a later release date.
The eventual cost of the device will hinge on Apple's approach to its design and the features it incorporates.
A comparison can be drawn to Samsung's foldable lineup, where the Galaxy Fold initially debuted at $1,980, offering a 7.3-inch tablet-like display when unfolded and a smaller 4.6-inch external screen. Subsequently, the Galaxy Z Flip arrived with a more vertically-proportioned 6.7-inch display featuring Ultra-Thin Glass, priced $600 lower than the Galaxy Fold.
This pricing trend continued with the latest Galaxy foldable, with the Z Fold 4 launching at $1,799 and the Z Flip 4 at $999.
If Apple opts for a smaller, more budget-friendly foldable device, its price may align closely with premium handsets like the $1,099 iPhone 14 Pro Max.
However, should Apple develop a foldable iPhone that can transform into a tablet, similar to the Galaxy Z Fold 4, the price could surpass the cost of its conventional smartphones, potentially reaching or exceeding the formidable $2,000 threshold.
iPhone 15 Flip Display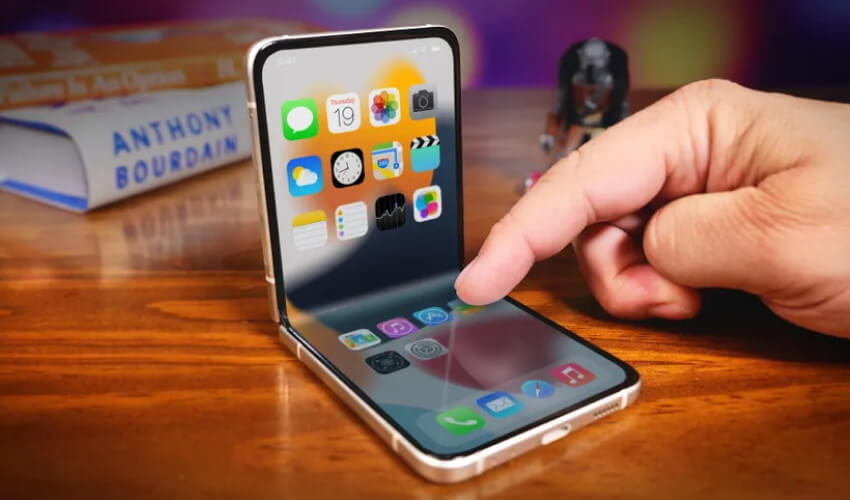 Source: CNET
Ming-Chi Kuo, a respected analyst, has indicated that the first foldable iPhone is expected to feature an expansive 8-inch display, surpassing the Galaxy Z Fold 4's 7.6-inch unfolded screen.
This 8-inch display would approach the size of the 8.3-inch iPad mini, offering a versatile user experience.
Another report suggests that Apple may collaborate with LG to develop a 7.5-inch OLED foldable display panel for the device, indicating multiple display size considerations.
Kuo has even suggested that Apple is in the experimental phase of testing a colossal 9-inch display for its foldable iPhone. This would set a new benchmark in the foldable phone market.
Apple's innovative approach also includes the possibility of using color e-ink displays for the exterior of the foldable device. While such screens may not match the responsiveness of LCD or OLED panels, they excel in conserving battery power.
Intriguingly, a patent hints at Apple's commitment to durability, suggesting a mechanism in which the iPhone 15 pro Flip's hinge could initiate mid-drop closure, shifting the phone's balance to prevent the screen from making contact with the ground and potentially averting damage. This innovative feature underscores Apple's dedication to protecting its devices in real-world scenarios.
Related Search: iPhone 15 Pro Max Colors Available Options
iPhone 15 Flip Feature
A report by Bloomberg's Mark Gurman from early 2021 suggests that Apple's progress in developing a foldable iPhone has primarily centered around the display technology. At that time, the company was reportedly in the early stages of development, without complete handset prototypes in its labs.
In the approximately two years since Gurman's report, limited information or concrete details have emerged about the foldable iPhone's specifications, including its cameras, processors, and other features.
Given the early stage of development, it's not surprising that Apple still needs to finalize specific decisions regarding the device's components and features.
While there has been considerable speculation and numerous leaks circulating within the tech community, it's essential to approach such information skeptically, as the final specifications and design of the foldable iPhone may still be subject to significant changes as Apple refines its concept and development.
iPhone 15 Flip Software
While much of the buzz around a potential foldable iPhone has focused on its hardware and physical design, software is equally crucial to a seamless user experience.
Both iOS and iPadOS, in their current states, are not optimized for a foldable form factor, necessitating significant software development to accommodate the unique features of a folding device.
Samsung's Galaxy Z Fold 4 has already highlighted the importance of a well-tailored software interface for foldable devices, underlining that software is a pivotal component in enhancing the overall user experience.
Given Apple's well-known commitment to delivering exceptional user experiences, the company is likely actively exploring and brainstorming ideas for adapting its mobile operating system to the foldable iPhone.
Depending on the specific direction Apple takes with the iPhone 15 Flip, we may witness the emergence of a distinct and tailored derivative of iOS, specially designed to harness the potential of a foldable device and ensure a seamless user interface.
iPhone 15 Flip Durability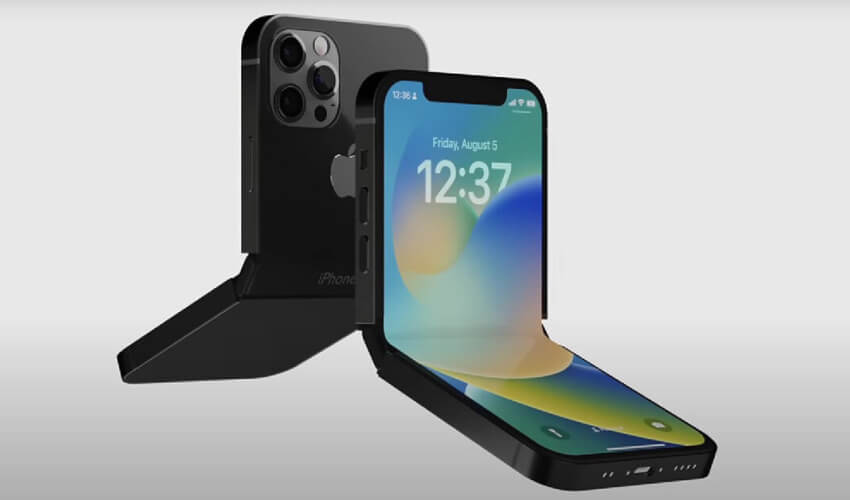 Source: Designboom
In October 2020, a patent hinted at the potential durability enhancements for the iPhone 15 pro Flip, proposing an advanced version of the iPhone's ceramic shield specifically tailored for flexible displays.
This proposed ceramic shield for the foldable iPhone would consist of four layers: the cover layer, the hard coating layer, the inner surface, and a transparent support layer, which could be reinforced with sapphire or glass for added strength.
Speculation has also circulated about the possibility of a "self-healing material" layer within the display, designed to minimize the visibility of scratches and dents over time, further improving the device's durability.
While Apple's foldable phone plans are uncertain, the durability, reliability, and cost considerations could lead to multiple design approaches. Besides flexible displays, if Apple finds it more appealing, dual-screen hardware remains an option.
An earlier 2020 Apple patent revealed a concept where the foldable display would flex in the middle without putting excessive stress on the panel. The hinge area would allow for a gradual curve rather than a harsh crease, potentially enhancing durability and prolonging the display's lifespan. This design concept shares similarities with the Galaxy Z Flip's hinge design.
Apple has continued to explore ways to bolster the iPhone 15 pro Flip's durability, as evidenced by a subsequent patent that focuses on creating a crack-resistant display, further underlining Apple's commitment to delivering a robust and long-lasting foldable device.
Enhance your iPhone 15 pro Flip's style and protection with exquisite iPhone 15 pro max Flip cover and iPhone 15 Flip phone case options. These accessories shield your device from daily wear and tear and add a touch of sophistication, making your iPhone 15 Flip phone a statement piece while keeping it safe.
Conclusion
In the rumored iPhone 15 Flip Phone, anticipation continues to mount, fueled by glimpses of Apple's potential venture into the foldable smartphone domain. While hardware and design considerations have garnered significant attention, it's apparent that Apple is also committed to addressing crucial elements like software adaptation and device durability.
With patents hinting at innovative materials and hinge designs, Apple's dedication to delivering a robust and long-lasting foldable device shines through. As the journey toward the iPhone 15 Flip unfolds, it's clear that Apple's meticulous approach to user experience and innovation may reshape the landscape of foldable smartphones, leaving us eagerly awaiting the day when this transformative device becomes a reality.